Last week I was cruising craigslist and came across an ad for vintage 1950's lawn chairs nearby. I responded to the ad and picked these babies up Saturday morning for $15 each! A quick check on eBay listed them at buy now prices of $25-$95!
They're a little rusty, of course, but totally resoreable. I told Kevin on the way to get them I wanted to paint them turquoise, my new favorite color. Would you believe underneath the white paint on them, the original color was turquoise? Hah! You can just see it peeking through where the white paint is chipped off.....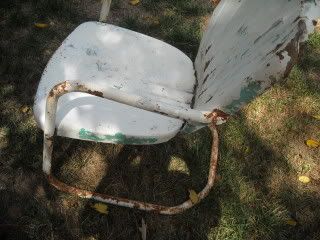 These join my other cragislist find, a vintage "spindle" (Jenny Lind style?) bed. I got if for $20! I don't have a before photo, but it was drab, fake mahogany stained. I painted it white. Just a note: I started painting it with basic white wall paint, and no matter how many coats I slathered on, the varnish underneath showed through as pink blotches. Finally I went and bought "Killz" paint and one coat did the job of covering the pink blotches. Then I top coated it with shinier indoor type paint. So, if you decide to paint old furniture, "killz" it first and save yourself a bunch of surplus painting hours. BTW - this spindle bed is just until I can find an iron bed at a reasonable price. I just missed one for $75.... SOB. :( I love iron beds; so old-fashioned!