There is far more to being in the vintage selling business than picking up some junk at the local thrift store, snapping a couple of pics of it and listing it on a site like Etsy, eBay, or Artfire.
If you want to be a shop that is taken seriously, you have to make sure you're offering things people are actually going to want, have excellent photos, and label/tag items so shoppers can find your items via Google, etc.
Several times a month - mostly on Tuesdays, or weekends - I get myself together and head out and about on what I call "inventory buying trips".
First of all, vintage basically is anything 20-25 years old or older. Over 60 years old would be antique, I think.
I go to about three different thrift/charity stores in my town, as well as any rummage sale and yard sale I can find. I am sure some may think "Eeeeeeew! Gross! Dirty, dingy thrift shops!" Yes, some of them are dirty and dingy...but I NEVER buy anything dirty or dingy, as far as clothing/accessories goes. I do buy dirty china. It cleans up really well.
When it comes to finding vintage clothes, it helps to have a trained eye. I trained myself by reading books on vintage and spending countless hours on the Internet researching vintage textiles, designers, clothing styles, jewelry, etc. etc.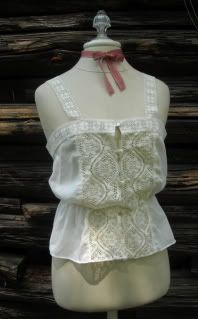 My eye scans past the new, flimsy, "cheap" fabrics and hones in on the cottons, wools, lace, taffeta, etc. Once you have seen a lot of vintage clothes, you can spot them a mile off not just by the cut, but by the fabric itself.
Next I open the garment and to the most important thing of all: check the labels. Labels are the best sign of all for a vintage piece. If there are no labels; say if something is handmade, custom made, or re-made, you have to look at things like zippers, threads, seams, lining, etc.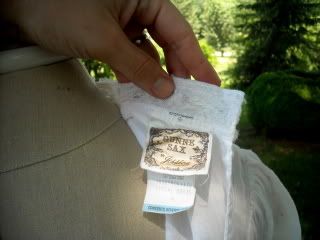 "Gunnes" with black labels are more collectible than this more common Gunne Sax label. I have never found a Black Label Gunne Sax.
Items with labels may be worth more than items sans tags. A labeled item will be able to be researched and you can find out the history of the item. The most common label I find are Union labels. Small red, white and blue labels often in the side seams or zipper seams.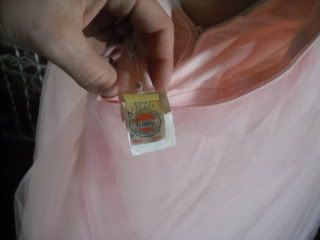 Not all Union labels are red white and blue. The International Ladies Garment Worker's Union started in 1900 and has gone through many label styles, the most recent being the red white and blue label here.

Next I check for wear and damage. If a garment is overly worn or stained, of instance, I might not buy it. Or, I might consider re-fashioning it. But mostly, I simply don't buy. I look for stains, holes, zipper function, and underarm staining. If I think I can do a repair, I buy it. Most of the items I buy are flawless, however.
Next I consider price. I don not like to mark my items up sky high; I believe a good deal is appreciated my everyone, so I try to buy items at good prices that I can offer back in my Etsy shop for a reasonable mark up to my customers.
This item was featured on the front page of the Etsy website and was sold to a woman in Sydney, Australia.
I actually pass up many garments in my shopping because I do not have a gift for selling them.
I do, however, sell a lot of hats and other accessories. The first thing I look for in my inventory shopping are hats. I buy every single hat I can find, regardless of condition. I collect them myself, so many are kept in my personal stash. I have sold hats all over the world. And this summer, I sold my first fascinators, as well.
A 1930's Elsa Schirapelli in my personal collection.

I spend a relatively small amount of time doing the shopping; I am often in and out of a store or yard sale, or rummage sale, or whatever kind of sale, in less than an hour, and in most cases, about 15 minutes to a half hour. Sometimes, I find nothing I want, and leave empty handed.
Then I begin research. I research labels for hours. I have to date each item to the best of my knowledge, often doing hours of reading on websites dedicated to vintage fashion and labels. Once I have a firm grasp on the item, then I begin the photography process.
Photography is, by far, the most time consuming aspect of what I do. I have to clean, repair, press, and display items. I often take hundreds of photos just to get a hand full of good ones that I can use. I have taken most of a day to get photos of five or six items, and still been dissatisfied with my shots.
It also takes forever if I am modeling the garments myself. I have to put them on and set up the camera and take twice as many as usual because I am not behind the camera to see to it that each shot is ok! This is why sometimes, I simply use one of my two dress forms, Heidi or Helga.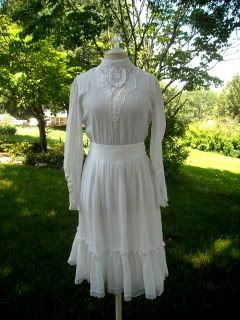 The only Gunne Sax I have ever found. I am reluctant to sell it.

Once I get the shots, I get them into my computer, and start editing. Cropping, tuning, touching up, exporting to different folders of listing the next day.
On listing day, I write descriptions, tag, upload pics, and list. I try to do it mid morning on weekdays, because that is when traffic on the site is heaviest. Unless I am targeting international buyers, in which case, I list items in the evening, when folks are not asleep in other countries.
Then I wait.
I bought these from a church yard sale for twenty five cents and sold them the following week for $50.00 to a customer in the UK.