My
"victory" garden
is coming along extremely well. (Click on the link if you want to know what I am referring to....) I am enjoying learning more about plants and how to keep them alive and thriving. My tomato plants are huge and happy, due to my reading up on how to properly plant them - that is, burying the seedlings 80% upon planting. It makes for a hardier plant. And boy, are mine hardy! I also fed them with chicken tea: a mixture of chicken manure and water, left to sit for several days. It made my plants completely explode with growth and flowers that will soon be big, juicy, ripe tomatoes. Yummm! BLTs, prepare thyself!
I also realized that I was going to have to protect my plants from my free ranging chickens; all 30 of them that wander about the yard, digging at and pecking at my plants. So I dragged a roll of woven fence wire from the barn and made these protective cages for my maters, that they can conveniently grow on as well. Now the pesky chickens can't dig about the plants.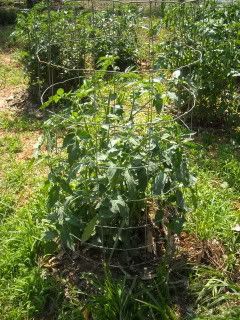 Me: 1. Chickens: 0. Mouhahahahaha
Here are the cherries we picked from the neighbor's tree. You have no idea how many hours it took for me to pit those babies for jam making. Needless to say, there was exactly ONE batch of cherry jam this year.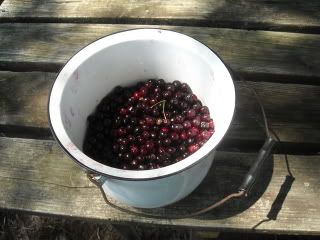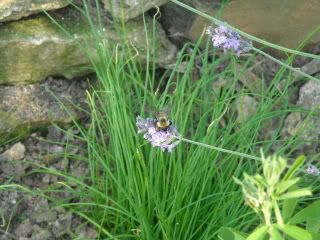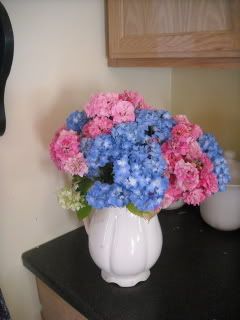 My newly painted pantry.
The view from my pantry window..
I bought this chair at a big, indoors, community yard sale in my town for just $3. It is very old. I am going to make a cute, Frenchy cushion for it. And apparently, Phileppe and Brutus think I bought it for them to play kitty "jungle gym" on.
Have a great day and y'all come back now, 'hear?