I saw rag balls on Etsy, and I knew I could do that, too. (
No offense to sellers of rag balls on Etsy; it's just that some things I like the satisfaction of making myself. Jewelry? Nope. But rag balls, I can handle.)
This is the time of year where I get into crafting things. Mostly Christmas things. I think I get it from my Grandmother and from my Mom; they engrained crafting and cooking into me from the time I was quite young. Now, every Nov. - Dec, the kid in me wants to make cool stuff, and bake 100s of dozens of cookies.
So I had a good idea of how to do it, but I checked on line for a tutorial and found one at
The Feathered Nest.
If you want to do this too, I suggest checking out the tutorial.
I used an old raggedy shirt of my husband's. I didn't want to donate a threadbare rag to Goodwill, nor did I want to throw it out; so I re-purposed it into home decor.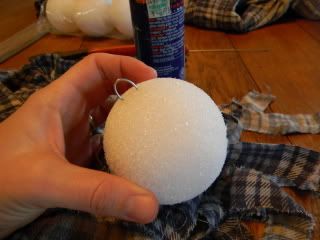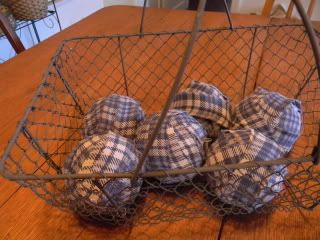 I did these with a metal loop for hanging. You don't have to; if you just want rag balls sitting in a basket or bowl someplace.
They'd be cute in Christmas-y colors, hanging on the tree, too.
I also have ideas for other colors - actually, non-colored: I plan on doing some in tea dyed linen with lace trims and pretty ribbons.
Well, I am off to do my Thanksgiving baking now! Have a wonderful Thanksgiving, and be safe on Black Friday (if you go out into the fracas).