I went and picked some cherries out of the neighbor's cherry tree the other day, and made cherry jam. I decided it was time for a cherry celebration on this blog.
I love cherries! Not only are they one of my very favorite fruits to eat, they are just so darn cute!
Cherries were wildly popular in the 50s, in clothing, accessories and home decor. So today there are many vintage cherry themed pieces floating around out there looking for loving homes.
Here are some of my favorites from Etsy: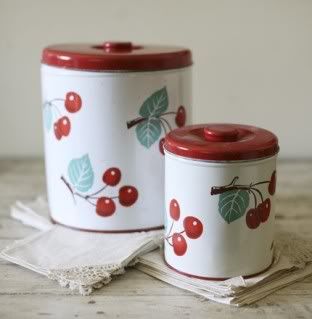 These
canisters
are just perfect! I love them. They're from
Sadie Olive.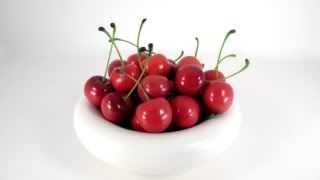 How about these realistic looking
cherries
? They seriously look juicy enough to eat!
They're available from
BadassBunny.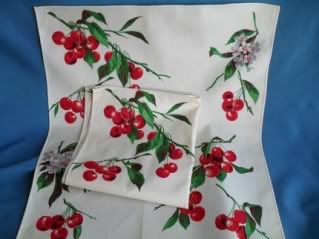 Serve up some cherry pie and hand out these
napkins
to your guests! From
Vintage Funland.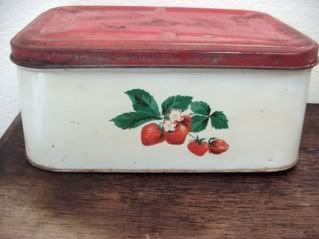 Ok, so these aren't cherries.... but they look like it from a distance! This
breadbox
is so cute. Buy it at
Shade Tree Vintage.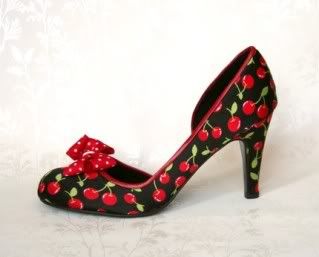 Even these
shoes
look good enough to eat! They're from
Tuppence Ha'Penny Vintage and Retro.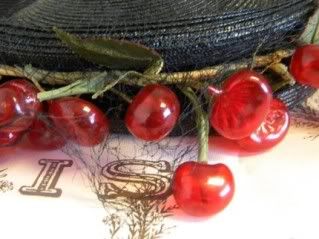 This
hat
is adorned with celluloid cherries. Get it from
Madame Sassy Pants.
I love
this dress
with the cherries and the red ric rac. Available from
Redux Delux.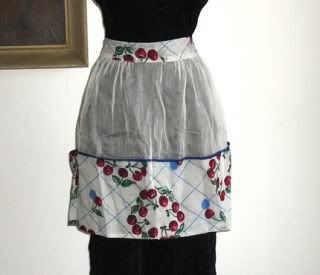 Cover it up with this
vintage apron
from
Vintage Curve.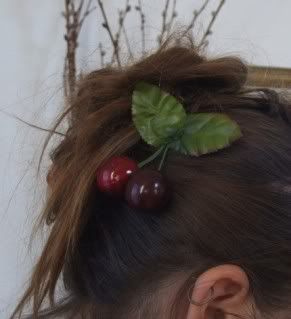 And lastly, this adorable
hair clip
from
Here Lies Boots.
I'm going to go eat some cherry jam on some home made scones with whipped cream!