Warm weather is here once more, and with it all the tag sales, yard sales, rummage sales, Estate sales, and other outdoor - or indoor - sales of "stuff"!!
One of my favorites is the annual Caswell County (NC) Council for the Arts rummage sale, held in the auditorium of the Caswell County Civic Center in Yanceyville, NC.
I did my civic duty and went yesterday, and also stopped by another yard sale, and picked up some goodies both places. I have to show some of them. :D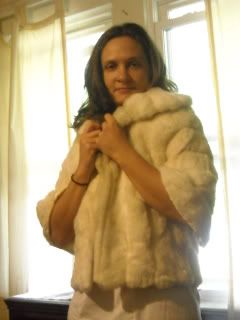 This is a 1960's "fur". It is rather dingy, but nothing that can't be dry cleaned out. I am undecided as to whether I will keep it or not - I kind of like it.
1960's glittery silver handbag. The rhinestone clasp fell off and was inside the bag. I practically stole it; and Kevin can weld the clasp back on for me so - no biggie. I have no use for a silver handbag, so this will get listed on my Etsy.
I love this enamelware bowl - and "Sundries" is just so cute. Fifty Cents.
I loved this shabby pink roses pie plate as soon as I saw it. It's oven proof, 1930's (ish), and I pad $3.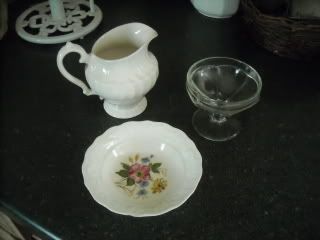 Ten cents each. The ice cream dish is Depression Glass.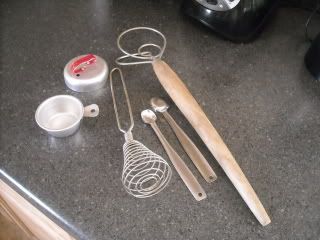 Vintage kitchen gadgets - all for fifty cents. I love the red handled biscuit cutter.
Antique napkins: One set embroidered, one set open work. And that is also an embroidered pillowcase.
I also got a set of wedding cake pans but I didn't take a photo. I think I did pretty well for spending less that $20 at both sales.
Find a yard sale or benefit "rummage" sale in your community and check it out today! I find it is a very enjoyable passtime, and benefits you as well as civic organizations in your community. :)