I know that coming from a self-professed collector, this is going to sound really really weird.
I have been trying to find a balance between being a "collector" and a hoarder. Collecting runs in my blood; I get it honestly from my Mom. *waves at mom*
I buy things on an almost bi-weekly basis - yard sales, auctions, antique stores, thrift shops, estate sales, craigs list, ebay, etsy, etc. etc.
I use less than half. Of course much of it is inventory; but a good percentage goes right into a box and into my storage room.
When I went into my storage room last week and could not even get beyond the door, I knew I had to do something.
A box lot of vintage gloves, belts, scarves, hankys, etc. I purchased at an antique auction for $3.
Much of it has gone out of the house and straight to my shop. But it's not just those things - it's everything else, too.
So I decided I have to pear it down, and this time I am serious. Of course, you should not get rid of things like:
- Gifts
- Memories
- Family relics
But if I don't
love
it,
use
it,
need
it; and if it is not any of the things listed above, I am
probably going to toss it.
Too many shoes, coats, bags, crinolines, china, silverware, beer mugs, lamp shades, out dated home decor I will never use because it is not vintage - bye bye.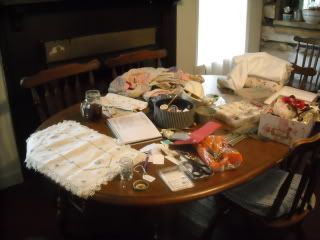 My table, as I sort through my things for the shop and record them in my inventory book.
I still have a set of towels that were wedding gifts, and we've never used them.
WHAT?!
Seriously?
I am tired of loosing things in my stash and having to dig through boxes to find them.
And I know I inherited Grandma's sewing stuff - all 8 huge plastic tubs of it - but I am going to have to surmount my guilt and toss the purple stretch velour fabric. I know I will never use it. Sorry, Gramma.
And I am sick - sick to DEATH - of those two curtain stretching frames. Grrrrrr
Anyone want a vintage curtain stretching frame? You can HAVE it.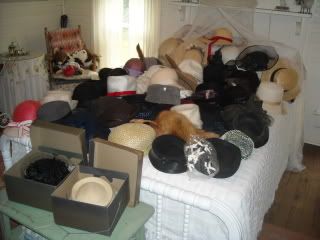 Yep. Too many hats.