I collect tea cups. What lover of cottage-y decor doesn't?
I didn't always collect them; in fact, I rebelled against cottage-y convention and collected sugar bowl and creamer sets, instead. And soup plates.
(When I visited my brother in Las Vegas one year, I found a set of 12 blue transferware soup plates and bought them. I then boarded the airplane for the long flights home and held the things on my lap for the entire trip. Hauled them through the airport terminals, also. It was crazy. I never lost one, and I still have and LOVE those soup plates.)
But anyway - back to tea cups.
I owned blue willow tea cups and saucers for a long time, but that was it. Then last summer I accidentally acquired my collection. I bought almost all of these at two places: a yard sale and a thrift shop.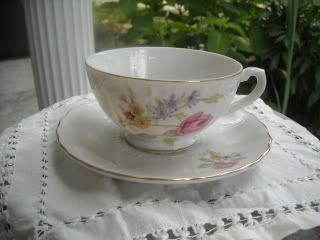 This one, though, I have had for years - sort of. The cup was given to me when I was about 16. I was feeding the neighbor lady's cats while she was out of town. She happens to own one of the antiques shops in my historic home town in North Carolina.
The cup sat on the counter in her kitchen with the $20 for feeding her cats and a note: "The cup is for you......."
Years later, I was at a Goodwill store, when I stack of saucers caught my eye from under a pile of other glassware. I pulled them out, and was delighted to find that the saucers matched the cup I had had for so long!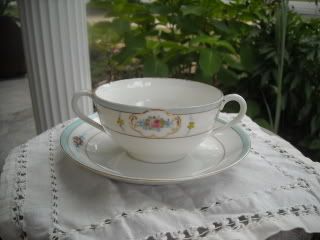 This is a sweet little thing with two handles. I bought it to sell on my Etsy, and changed my mind. As usual.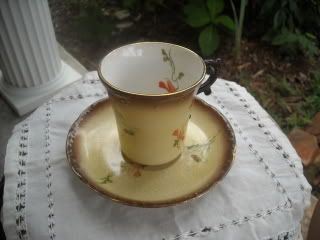 This is my favorite. I scored when I bought this for a quarter. It appears to be hand painted, and is an unusual shape. The inside is painted as well. And it is covered in crazing, so it is old.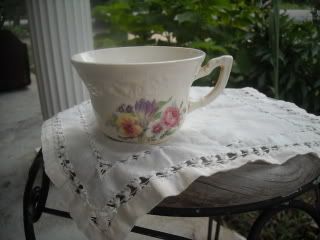 Here is one without a saucer .... but I love it.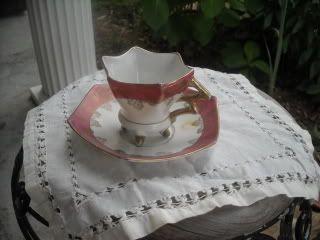 Here is another unusual one, as far as shape goes. the cup has little feet. :)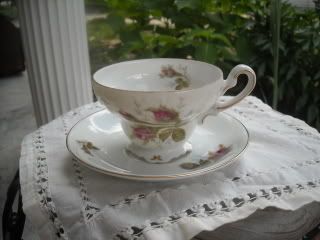 A child sized Moss Rose.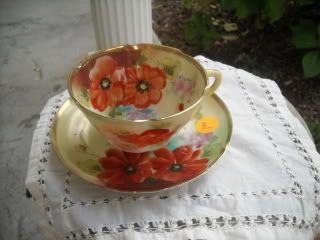 This one still has the price tag on it. I have 2 of them.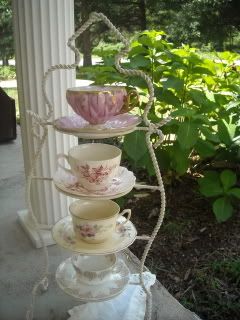 Here are some more:
The one on the bottom is white with gold. I have 2 of those. Second from the bottom is one of four W.S. Geroge "Blossoms" from a set of that china I bought. It's dated into the 1940's.
Then is another of my faves, because it combines roses, fruit and berries: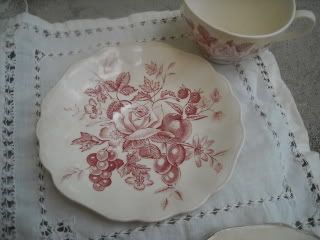 The top one is an unusual looking pink and gold one, and the finish is pearly; kind of like carnival glass. I don't know what you call that, but it is pretty nifty.
The sad part is, these stay packed up. These, and all my violet china. My china closet in my dining room, and my free-standing china cabinet are chock full of all my other china..... I actually have gotten a third china cabinet, but it needs some fixing, so I gotta wait for Kevin to fix it before I can fill it up with all of this stuff.....or get rid of some of it. Or all of the above.