I guess I am different from a lot of vintage loving girls; as far as my decorating style goes - because I do not like the 1950s "Atomic" style decor. And "Atomic", 1950's "Mod" decor seems to be the "going thing" among the vintage loving set of folks. I have nothing personal against it, I just prefer a more old-fashioned style of decor.
The husband and I have a 1920s farm house, and we're renovating it and re-decorating it; in a style that is decidedly more "cottage Victorian" than anything else.
Here are some images of bedrooms that are inspiring to me (-
these are not my house
).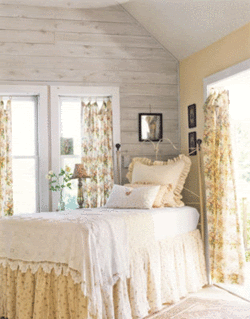 From Country Living
I adore iron beds. I have been searching desperately for an iron bed for almost 2 years now. I am quite determined to have one this year; if it means going to every antique auction in Virginia and North Carolina to get one.
In my decorating, I decide what items I want/need for a room, and then I wait until I find just the right thing. It could take years..... but I wait until I find it, and make do with something else until then. I don't buy anything new or modern; almost everything in the house is antique and vintage.
So I am waiting and searching for the iron bed. And the perfect china cabinet to complement my "new" antique oak dining table (an auction score). I am waiting for a wardrobe, and I am waiting for a sofa for my office/den. It is a lot like being single and waiting for the right guy to come along.
I like the "shabby chic" style, but with rustic touches; like the first and last photos. I don't like everything to be the same boring shade of bright white, and I do not like how some shabby chic decorators go overboard with pink paint and busy floral fabrics on every thing.
I like neutral walls, wood floors, (especially the floor in the first photo) and hardly anything cluttering up my windows. I
do not
like "drapes" and they make smaller rooms feel choked, dark, stuffy, and overdone. And by smaller rooms, I mean anything smaller than a ball room in an 1700s era English Manor house. I hate wallpaper - in
almost
all cases. I love a room to have at least one "woven" or wicker accent someplace.
I like to enter a room and have my mind be relaxed - not busy taking in 10,000 details and then feel completely smothered in it.
Have a wonderful, relaxing Sunday! I intend to take in some sunshine and probably ride one of my horses for a bit.