I don't need another chest of drawers. Let me just get that out of the way right off the bat.
But, I spotted an interesting "dresser" at the local Goodwill two or three weeks ago on one of my scouting trips. They were asking $90 for it; and I felt like it wasn't worth it.
But it was there the next week, and the next; and then it was marked way down. So, I went home, and told my husband about it. Any purchase over $25 - $30 we always clear with the other spouse before hand. It's just one of those things we do; keeping each other accountable for spending and shopping. He was all for it, so I went back and bought the dirty old thing.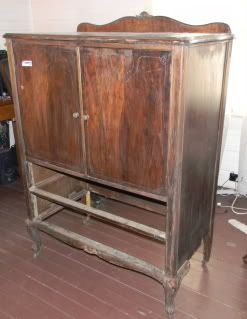 This is it with the bottom drawers taken out. I thought it was neat, with the doors above concealing another drawer inside, and space where there were two more. I liked the "lines" of it.
But
..... it needed a little help.
I cleaned it, sanded it, glued it, primed it with Killz 2, and a couple coats of "extreme adhesion" paint in plain ol' white - inside and out.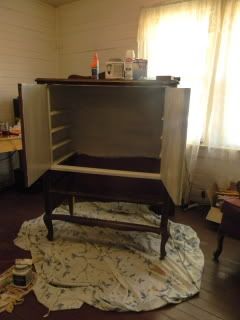 I bought two antique reproduction pink glass knobs to replace the original plain metal ones. The drawer pulls I removed and painted white, and put those back on.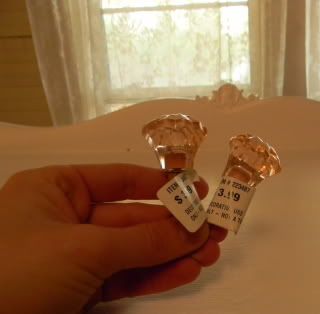 I will probably distress it with a sanding block in a few weeks, after the paint sets a bit. And the drawer behind the doors I may paint white later.... or turquoise; I am undecided - so I just left it. I also plan on fitting a shelf in the space behind the doors where the drawers are missing. I ordered a wooden caster wheel from an Etsy seller to replace the broken one.
I am not sure if I am going to try and sell this particular piece in my booth at the antique shop, or if I am going to keep it for myself.
But I plan on doing a lot more "fixing" of old pieces like it as part of my shop offerings when we re-open in the springtime.
OH YEAH - check out this turquoise tinsel tree I bought today! Regular price on it was $17.00; I got it for $6.00.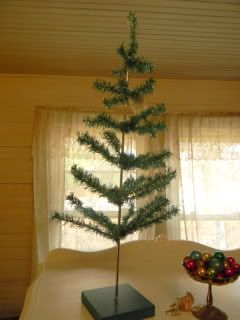 It is going to look awesome in my booth next Christmas with my cute little 1950s glass ball ornaments all over it. :)