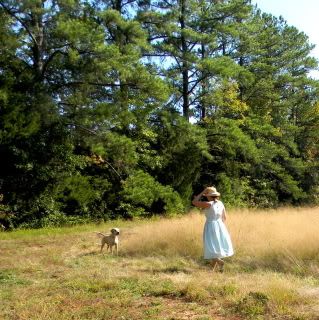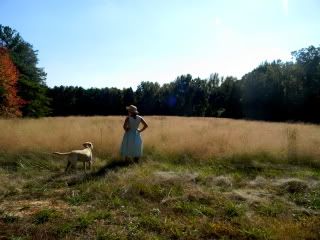 I bought this dress when I was visiting my sister who is attending Regent University in Virginia Beach. It's a classic Laura Ashley cotton sundress, done in a 50s style. I
love
it. My sister, on the other hand, said it looked like something she would have dressed her American Girl dolls in, when she was a kid. She said it was too
"cutesy"
. I agree; it is kind of
"cutsey"
; but I need something
cutesy
for when I am in a
cutsey
mood. So
there
, Noelle.
Anyway, today it was warm - in the upper 80s - so I figured I'd enjoy wearing it on what will probably be the last really warm day of the year; since we'll be getting chilly here at the end of the week. I took my camera, and Dodge, walking in the fields here on our farm.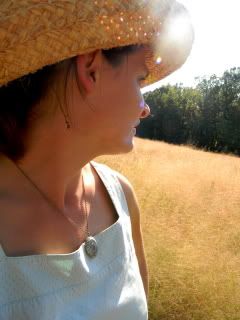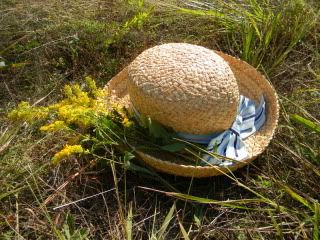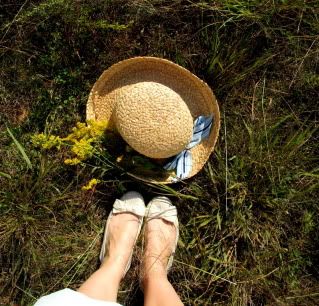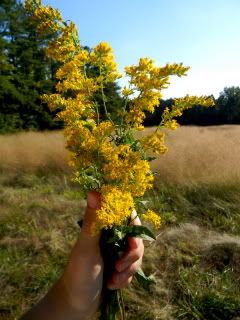 Dress:
Laura Ashely; thrifted
Shoes:
American Eagle; thrifted
Hat:
Liz Claiborne; thrifted
Locket:
Vintage silver plate locket, thrifted