We had made a plan to go over to the Blue Ridge Parkway today, and view the leaves, hike underground at Dixie Caverns, shop in the antique malls, and have a barbeque supper someplace.
Then Kevin's boss decided to make him work instead.
So I was sad, disappointed, a little annoyed, and generally grumpy this morning. Plus I woke up with a headache.
So to cheer myself up I took Dodge and headed to Yanceyville, NC (near my childhood home down the road) where they have a community yard sale most weekends during nice weather. I got myself a smoked sausage biscuit and a hash browns, and went shopping at the yard sale vendors.
Then I went to the Junk Shop next door, and I was starting to feel better so I went to the local charity shop, where I found the mother lode.
Here's a few of my findings:
For me -
A tin of old sewing notions. I also found four or five necklaces mingled in with the sewing things. I got it for $2. I don't sew, so I don't know what I am going to do with it; except stash it and tell myself I will eventually sew something.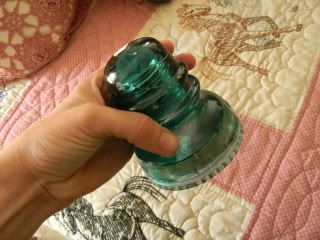 From the junk shop, a blue insulator. My favorite color.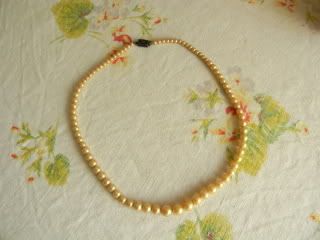 A very old strand of faux pearls with a nifty clasp. From the same yard sale as the sewing notions.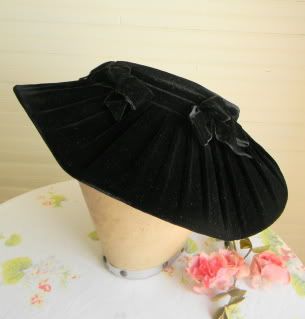 From the charity shop, a 40s black velvet hat for my collection. So cute.
A lovely tam, which I will probably wear a lot this winter.
And, for the shop: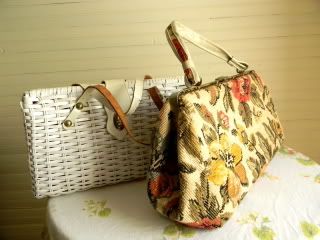 Two really cool 50s - 60s bags: white wicker and a very.very.very. cool tapestry handbag.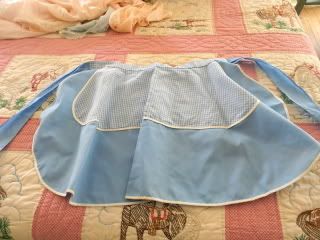 A dead stock apron, in sweet blue and white.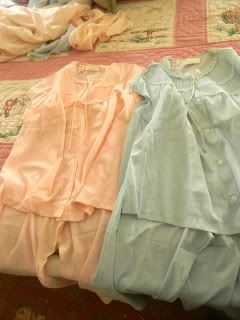 When the lady at the charity shop saw I was buying a bunch of old stuff, she said she had, in "the back", two sets of old pjs with the tags still on them. I asked to see them, and so she brought them out: 2 sets of cotton 1950s pjs, tags still attached, and in perfect dead stock condition. I had to pay a little more than I wanted, but I could NOT leave those there! So adorable!!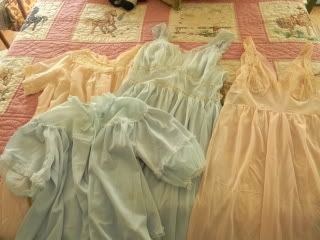 Several sets of frilly, lacy and romantic, and very old, gowns and robes.*swoon*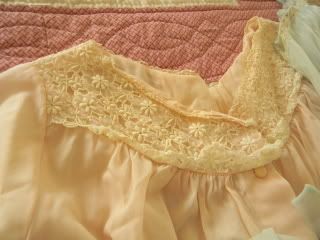 I am still annoyed that my mountain plan was wrecked, but I am somewhat comforted by my excellent finds.
And the delicious sausage biscuit. Mmmmmm.