Last summer,
I saw "The Help"
and was smitten. I immediately bought and read the book, and then this Christmas I received the DVD as a gift from my sister. I fell in love with the (early)60s dresses, and their full skirts and feminine details that work great for people like me with......
curves
. Of course, I then devoured every season of "Mad Men" on Netflix, where I just died over almost every single one of Betty Draper's outfits.
And when I saw this dress at a thrift shop today, I knew I had to have it; because it looked just like something the character "Skeeter" in "The Help" would wear! I snagged it for $5.00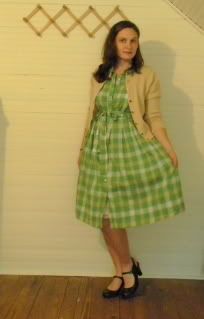 (Me, with zero hair done, and only a tinted lip balm for "make up" - sorry for my frumpyness)

The dress is not vintage; but might as well be, for it's classic 60s styling, bright green plaid cotton, button front, full, lined skirt, and tie belt. I'm wearing it here (I put it on as soon as I got home with it) with a 50s cashmere cardigan, since it is January, and a bit chilly out. (The dress is actually sleeveless. It is also about 5 sizes too big for me, but thanks to the tie belt, it cinched right up.) I am going to wear this dress out this Spring and Summer!
I also picked up this awesome tapestry handbag: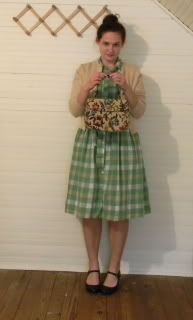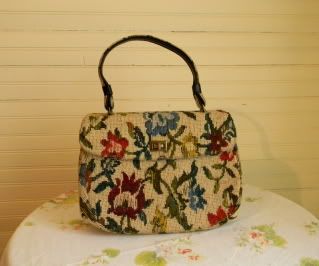 Bag for sale here
.