So the saga of my "shop of my own" dream continues...
The first try at getting a room, or a booth, in one of the local shops fell through, for mostly financial reasons - my little business cannot support a whole building, even if it is growing little by little. And because their whole vast antique business is closing, and I'd be the only one in the place, with no one to share rent with, all the bills would be my responsibility.
But there is more than one shop in my little historic home town in rural North Carolina.
So I took my dream and went to my friend who owns the other shop in town... a huge, 2-story brick building built in 1837.
The whole building is painted
pink.
Anyway, the owner and I have a long history together; I manage her horse farm, I used to help her clean her monster of a house that sits right next door to the store:
I look after the house and her cats when she is out of town; which is almost 3/4 of the year.
When her donkeys escape from her horse farm I fetch them back .... grrrrrr.
I still occasionally work part time in her antique shop, which is inside the pink building. And I have occasionally consigned some pieces with her and sold them; including a few vintage dresses and hats a few years ago, before I got married.
So we were discussing the closing antique shop down the street one day, and I told her how I had inquired about renting a spot/booth/room/
whatever

and how I simply could not do it, at present.
"Well.... I wish you would have said something to me," she says.
Long story short: after several discussions with her, and discussions with my husband, of course - I have agreed to re-vamp her entire store, and work free of charge for a certain amount of hours a week, in exchange for one room sized spot in the upstairs loft of her store, in which to set up my own shop.
While I am extremely excited about this, I am also completely overwhelmed...... there is so much
stuff
, so much cleaning and re-arranging to be done, and every time I go in there to work, my brain is all scrambled and I don't know where to begin.
Here is what my loft shop area looked like before I began: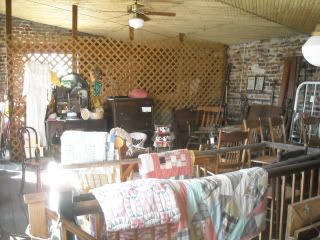 Ugh! Look at all the
stuff!!
Much of it is out-of-style gothic Victorian stuff that she simply cannot sell. And Christmas mess.
So I worked for a whole afternoon and this was the final result on MY side of the loft:
The floor is nasty under the old rug I removed; that is for sure. A good mopping or two.... or three..... even four..... will reveal the varnished floor boards.
The lattice will be covered up with plain white fabric sheet "drapes" courtesy of my Mom.
The dresser and vanity you see will remain and be used as prop pieces; as well as the white iron scrolled room screen, the white wicker rocker, and the wrought iron Victorian "ice cream" set.
My husband is building me several heavy duty dress racks, and "cubby" shelves for display.
For starters.
So I have been working like MAD to finish my projects stashed in the barn (my footstools), and digging out all of my stash I have stashed over the years for future selling purposes.
Sewing, painting, fixing, drilling, packing, polishing, gluing, cleaning, dusting, buying........ whew.
I didn't know there would be so much to DO. I haven't even gotten around to creating my inventory control/tagging system yet.
Let alone planning the Christmas Gala/Open House/Trunk Show/Grand Opening I am planning for Early December.
And buying a sign with my shop name; and advertising, and fliers, etc. etc......
It's going to be really cool. I am hoping that this works and that I can expand in a year. Maybe use the other half of the loft as well.
Fingers crossed.