There were so many photos of the hats I bought in the last "vintage buy" post that I didn't want to bore everyone with the hat pins.
Along with the hats, I bought hat pins.
And if you have hat pins, you must have hat pin holders.
Right? Of course, right. As a hat collector, I have decided to branch out and start collecting hat accessories - hat stands, hat pins, hat pin holders, head forms.... you know.
So, I bought this tall hat pin holder a couple of weeks ago from an Etsy seller.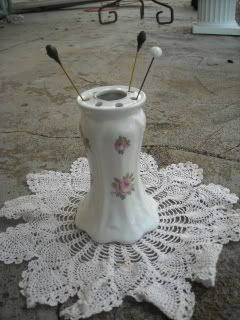 I keep my great (great?) Grandmother's hat pins in it - two very ornate metal tipped ones and a milk glass tipped one.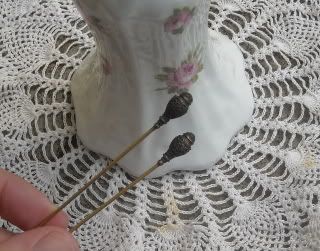 And I bought this trio of adorable, "shabby chic", cottage-style short hat pin holder from another Etsy seller last week. I cannot get over how cute these are.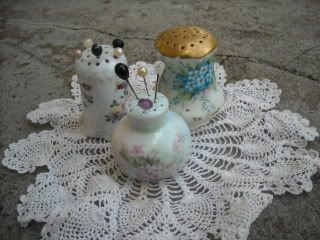 You can see here how small they are - only a couple of inches tall. I think they're actually really old salt shakers; 1920's or 30s perhaps. I
think
. But people started using them as hat pin holders, and they are sold all the time as hat pin holders. There are little holes in the bottom for corks; so that's what makes me think they're salt shakers with a second life as hat pin holders.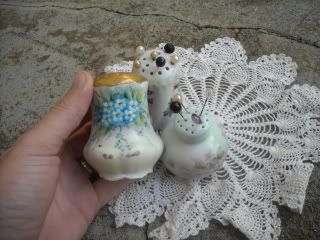 The pins they hold are only three-four inches long.
I am currently eyeballing more hat pins on Etsy. But I have to decide between handbags at the antique store this weekend or the hat pins; as I do try to keep my spending in check.
I'll let you know what I decide on and which vintage piece gets adopted.
Have a wonderful weekend, y'all! I plan on sleeping in as long as the puppy lets me, having ice cream for breakfast, and cleaning the house in my pjs; then cuddling up to watch movies - as it's going to be chilly all weekend!
I love autumn.