Ok, so Christmas is officially over, but I forgot to mention before it was over, that my favorite Christmas Movie of all time is Irving Berlin's "White Christmas"!!
(Also: we actually
had
a white Christmas this year, with snow and everything! For the first time since .... well, I'll put it to you this way: I have
never
seen snow on Christmas my whole life.)
Anyway... we've been watching "White Christmas" forever. I recently found out that it has been made into a Broadway musical.
The 1954 movie stars Bing Crosby, Danny Kaye, Rosemary Clooney, and Vera Ellen. And I love Rosemary Clooney. And Vera Ellen....
what
a dancer!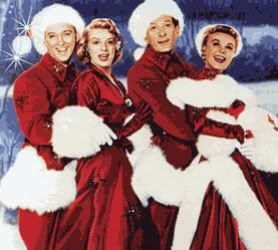 The songs are great .... c'mon, it's Bing Crosby! And the dancing is
amazing.
I love the costumes, the story, everything.
Ok, so there are some pretty cheesy sets.... but this was back in 1954 when they did almost everything on sound stages in Hollywood.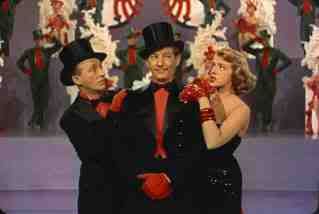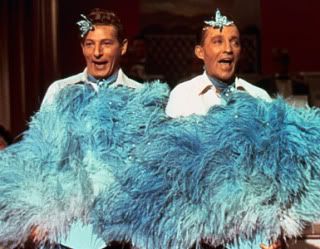 This is my
favorite
scene. The guys stall for time for the girls to get away out a window (long story) so they lip sync to a recording of the girl's song, the famous "Sisters". It is hilarious! Apparently, it wasn't supposed to be in the movie, but it was so funny, the editors left it in. I am so glad! (Below is a clip someone made of parts from two different scenes.)
Another cool thing we noticed awhile back is that the same actor who plays Bernardo in West Side Story is one of the four dancers in the "Love, You Didn't Do Right By Me" number that Rosemary Clooney sings.
And of course, my favorite Christmas song, "White Christmas" is in it. :)
Here's another little clip with some amazing dancing. Vera Ellen just blows me away.
(Sorry that blogger is cutting off the right hand edges of these you tube things.... grrrrrr)