My work usually is all done from home; but from time to time entails me having to sit with an elderly person for many hours at a time. For the past few days, it's been 12 hour shifts for me.
Much of my time is employed by caring for the needs of the persons I am sitting with, fixing and serving meals, cleaning, etc.
But, much of the time is also "idle" time, when I usually read a book, work on my embroidery projects, or watch movies from my Netflix account on my laptop.
Which I have been doing the past few days, so bored I have been with my John Grisham novel. (Funny how seeing the movie of the book, while in the middle of reading the book, takes all interest out of finishing the book.....)
I have been watching far too many of those depressing, sad, 1900s - 1920s costume dramas. The costumes take my breath away, but the hopeless love triangles, the unrequited love, the penniless girls forced to marry rich men they do not love, while forsaking their true feelings, all for the sake of "being taken care of"; the cruel relatives, the sad endings...........
Yeah. I needed a break.
I got a chance to run into my favorite thrift shop on a quick break and I scored some fantastic stuff! They never fail me.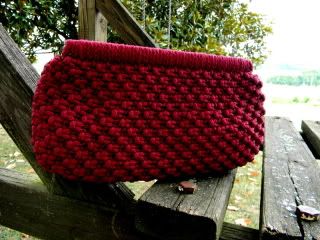 I think I will make a fabric flower pin for this awesome clutch before I list it on Etsy.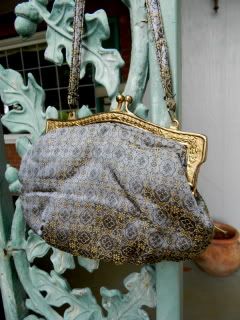 This one is not vintage; but the gold purse frame and the blue and gold brocade were stunning. I am going to put a different handle on it, and doll it up with some vintage brooches or something.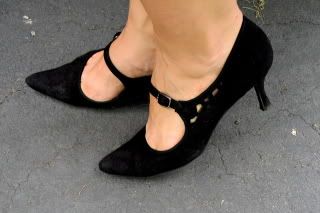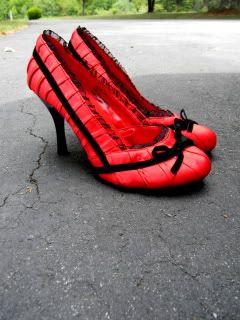 I've seen shoes just like these for sale in the Victorian Trading Co. catalogs. They don't fit me; alas....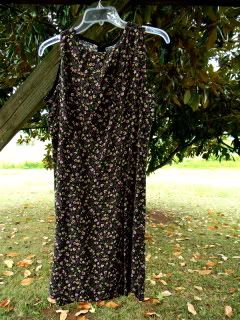 I have been noticing the comeback of small prints like these recently. I think they're cute! This is a purpley floral print dress that was handmade. What you can't see it how the neckline is attached with some little darts. (I don't sew, but that's what I think they're called.) I plan on wearing it with a cute belt. It will also be cute with a cardigan in the fall!
And lastly, a vintage linen table cloth with a cute yellow and blue stripe; that I might just cut up to make a curtain valance in my kitchen.
I also looking forward to getting back to my normal working schedule after today, and having some time to ride my horses and relax in the pool again!
Stay cool everybody!