I try not to bore you readers with too many photos of the kids in my life - my nieces and nephews. I try not to irritate you with stats on the kids; or the cute things they say/do/wear/make; or their smarty britches achievements - like when Ethan's baseball team was
undefeated
this season? I didn't even mention it. Nor do I mention when certain ones of them get killer grades, or do awesome school projects. Just like I never mention that my sister made the Dean's list at Regent University and that she is testing to get into law school this fall...... nah, I just don't go there.
(Winky winky....)
Except once in a while when the awesomeness of my brother's kids forces me to post photos of them, and mention them here.
Like my oldest niece, Abi. She's 10 years old. (
Geeez that makes me feel old.......
) She loves drama and singing and acting and she is talented at it.
She was in the cast of "
Annie
" last summer; a huge production in our town compete with an orchestra.
She's been in other plays; including "
Godspell
"; "
101 Dalmations
", and others.
And this past spring, she had the LEADING ROLE in another play...... which I can't remember the name of.
Ooops.
Anyway - this past 4th of July weekend, we had our usual huge family shindig at my brother's house, and I, of course, took tons of photos of the kids. When I got home and started sorting out the pics, I noticed something....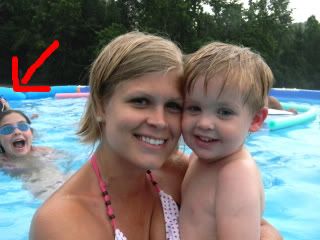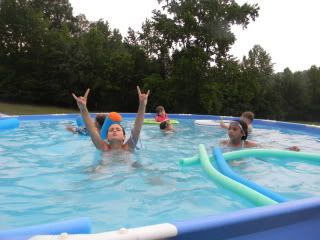 She's going to kill me for this.
Tee hee.