Yummy yummy yummy.
If you are not fortunate enough to live in the South, you probably have no idea what Cheerwine is......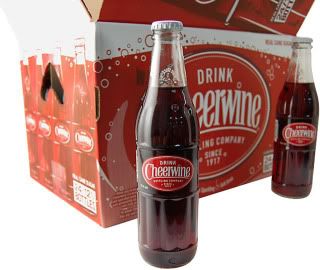 Cheerwine is a cherry flavored soft drink produced in North Carolina and only distributed from West (By God) Virginia, to Georgia; and a few other places around the country as a "specialty" soda.
I found an awesome recipe for Cheerwine flavored cupcakes and the Indipendance Day picnic our friends held this evening was a perfect excuse to try the recipe.
*If you live up North or out West and can't get your hands on Cheerwine, just use a cup of water and some cherry extract in place of the 1 cup of Cheerwine.
Cheerwine Cupcakes
1 box white cake mix
1 box cherry Jello-O
1/2 cup oil
4 eggs
1 cup Cheerwine
Mix well and fill cupcake papers 1/3 full.
Makes 2 dozen.
Frosting:
1 8-oz. package cream cheese, soft
1 Tsp. cherry extract
4-5 cups powdered sugar
Beat the cream cheese, cherry extract, and enough powdered sugar to make a somewhat stiff icing; using more sugar if needed.
Pipe onto the cooled cupcakes, garnish (if desired) and refrigerate until needed.
The cupcakes have a lovely pink color, and a wonderful cherry flavor. This is going to be a favorite in my house.