When it comes to decorating my home, I have difficulty looking at an empty space and figuring out the best way to fill/decorate it.
I am much better at looking at a piece of furniture, painting, or other item and figuring out how to use it.
So in my "den/living room" I have a wall with a fire place which helps me, and a wall with a large window that helped me, and a wall with our sofa and end tables, which helped me.
But the other wall was just a Big Empty.
I had a shelf of my Gramma's, but to me it was just empty, wasted space. And I was unhappy with the arrangement.
So after a lot of dithering about shelves, etc. I decided I wanted a low chest in that spot. So I started looking around at shops and yard sales and thrifts for a chest to re-do.
I never found one - I think people hang on to low chests of drawers and never donate/sell them!
Then, I recalled that there was
another
of my Gramma's pieces of furniture in storage in our 2nd "back house" (that is only used for storage because it's unlivable).
It is part of a set my mom had for years, and then my Grandmother kept in the house in Florida. Then she moved it back to NC and used it for a while; then it went back to storage......it's mate, a china cabinet, is painted white, and I use it in my dining room.
Mom had painted it purple in the 60s and avocado green in the 70s, and it remained avocado green in Grandma's house in Florida for years, until my Aunt Eileen started painting it pink, and then quit halfway through.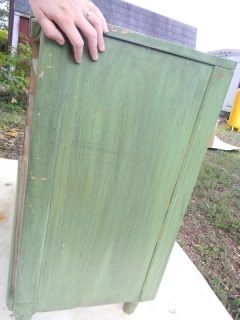 I decided to paint it barn red. I actually went to Tractor Supply Co. and bought barn paint. It is made by Valspar, and it is actually called "Farm Coat" or "Ranch Paint" or something like that. I like plain walls, but I like furniture that pops. :)
My husband painted it using our new paint sprayer - which I highly recommend! It gave such a smooth finish, and took a fraction of the time that it takes to brush a piece.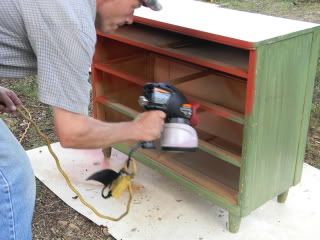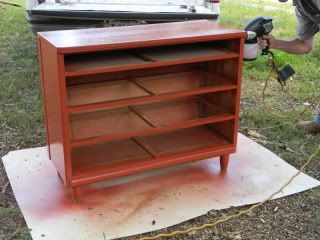 Here's the final result:
The prints are two nicely framed prints of American artists from the 1800s; that I purchased at a Goodwill store for $8.00.The shelf is an oak piece I got for a couple of dollars. The wood bowl on the top of the dresser was found in a barn on the property when we moved in; and the hand made, signed basket was another Goodwill purchase for a dollar.
It ties right in with the rest of the room, which is rich, warm blues and reds, decorated in a Americana/hunting lodge style. When one is married to an avid outdoorsman, one must have at least one room in one's house decorated to suit his tastes. I even allow his deer head on the wall. He is very happy with the results and it is such a cozy room for relaxing next to a toasty fire in the winter time. :)
The only thing I still need to do is replace the handles on it. I picked some out at Hobby Lobby that are cloudy glass antique looking knobs; but I am waiting for them to go on sale.