I just returned from a trip to visit my Husband's family in Michigan... and I have treasure to show.
Kevin's mom bought the most amazing "farmette" and we went to help do a bunch of clearing and work in the house - which is going through a top to bottom, down to the studs remodel. More on all that later....
While I was there, my niece (in law) Aloh and I stopped in to a "Barn" sale and an estate sale where I picked up several neat items.
Like this amazing Victorian style afternoon wedding gown: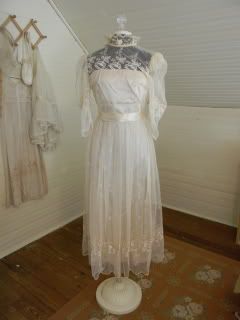 (Up later today in my Etsy shop)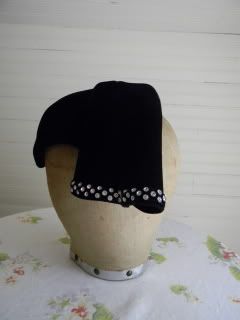 This hat was given to me by my Mother in law, and it belonged to my husband's Grandmother. This one will stay in the family for sure and gets a place of honor in my hat collection!
I also got several pieces of embroidered linen, a small hand painted Nippon dish, shoes, handbag, and other odds and ends at the estate sale.
Today was my first day back and I had to dash to the bank so of course I stopped in my favorite Goodwill store and spent too much money..... but got some great items for the house! I get great vintage clothes there all the time but not so much house wares. This morning I seriously lucked out in that department:
Awesome old cherry veneer trinket shelf. I haven't figured out where I am going to use it yet but I am sure I will eventually! I only paid four dollars for it. I've seen them in antiques shops for $30 - $40, depending on condition and age.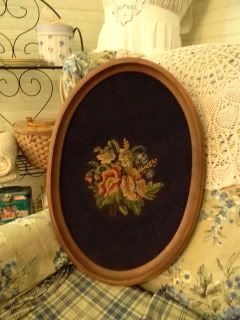 Old floral needlepoint in a oval frame.... oval frames are my favorite.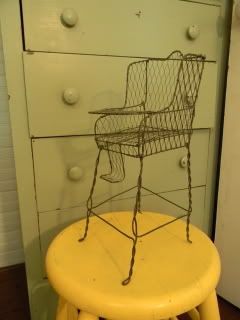 Neat old wire doll high chair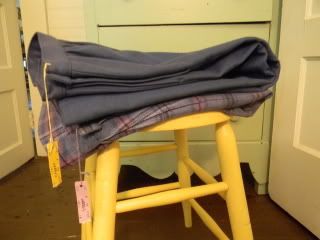 I did find some good vintage clothing items; including these two dead stock Pendleton wool pencil skirts from the 60s. (Will be listed in my Etsy later)
It's so good to be home!! :)