I caught a glimpse of an antique booth on a blog I was reading the other day (don't remember which one) and I saw a great idea for my stash of vintage hankies.
I had bought a box lot of vintage and antique hankys at an auction last year; hundreds of them. I didn't know what I was going to do with them but I figured ideas would present themselves and I could not pass up the bargain at $5.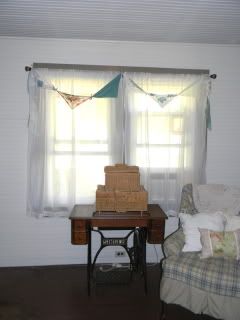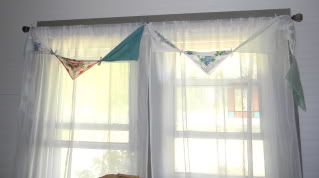 This one - in my office/den - I made from blue, green and turquoise (and some pink) themed prints and solid colored hankys.
I also did one in my dining room with white linen embroidered and cut worked hankys that is smaller, for the single window.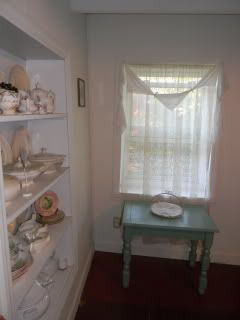 You don't need a box lot of 100s of hankys to do this. I used 10 for the double window and 7 for the single window. I also buy hankys at yard sales,thrift shops, or estate sales for a dime or as much as a quarter. Or you can buy larger lot of them on Etsy or eBay.
Fold each hanky in half, cross ways. (You might also want to press them.)
Tie the corners of each hanky together; using however many hankys you will need for whatever you'll be making this for.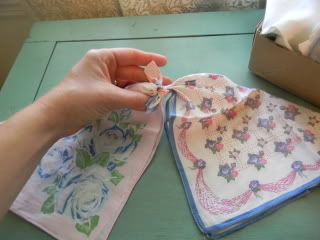 Like so:
I personally used the ones I made as window valances; but I originally saw them draped on a shelf. You could also use these as wedding decor, or drape them on a stair rail at Christmas; or anywhere you need a little vintage hanky "flag bunting" fun.