I bought this 1960s Maud Hundley handbag at Goodwill yesterday for a ridiculously cheap price.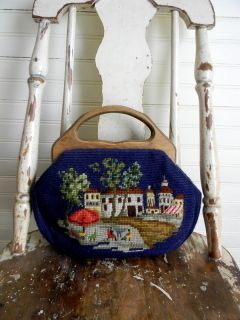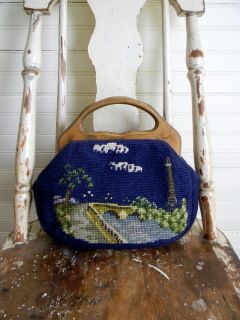 This is the perfect mix of two of my greatest loves: embroidery and vintage handbags. The bag is in exquisite condition, and worked in wool. The scenes on each side are of Paris. Notice how the details are worked in
petit
point
?(super tiny stitches, most often 1/4 the size of the regular stitch required by the canvas or linen you're working on. I have worked a few pieces in
petit point
and it is not easy. Takes forever, requires a tiny needle, and when I did it, I was working the canvas right up next to my face.) The Eiffel tower is worked in great detail; as are the buildings, people on the sidewalk, and even the tiny street lamps. Wonderful!
I had never heard of Maud Hundley; I guess she is not as well known a handbag designer as, say, Enid Collins. From what I can tell, she is known for custom made embroidered (mostly needlepoint) handbags. When I Google her, all I get is shopping results.
Although I know I can get a pretty penny for this lovely thing, she is staying in my collection of odd and unusually gorgeous handbags for now.