I've stated before that I am not a fan of Valentine's day; in the "traditional gift" aspect. That is, I don't like the typical dozen long stemmed red roses, cheesy box of cheap candy, stuffed animals, tacky lingerie, and the like. In fact, my husband and I usually ignore the day entirely. I prefer spontaneous romantic gestures, gifts, dinners out, cards, flowers, etc. - any old day of the year, and truthfully, my man was glad to be "off the hook" form rushing out and buying me something on Valentines Day, that usually doesn't require much personal thought, because the stores have it all set out for the grabbing.
(That's just
us
! I have nothing against people who
do
love it, and get into the spirit on Valentine's Day. That's great.)
That does not mean, however, that I am not a fan of romance, and celebrating love and romantic attachments! I just don't like the obligatory, run-of-the-mill way of celebrating and gift giving.
So to prove that I DO love romance, and the idea of Valentine's Day, I am going to highlight some cute Valentine's themed things - and food - this month.
Starting with these burlap banners I made.
(Have I mentioned that burlap is my new favorite textile for decor and crafts?)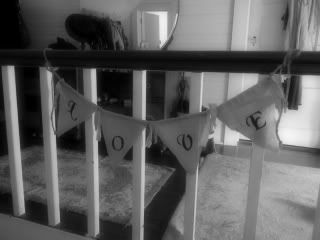 To buy:
Mini hearts burlap bunting
"Love" burlap bunting