I have funny hang ups about beds. I like beds with tall headboards and foot boards, and posts. Our bed in our master bedroom is a vintage mahogany (short) four poster with carved rails that I picked up at the Salvation Army store for $30 the first year we were married. One of the most outstanding finds of my entire life, to date.
In our guest room I had a vintage "spindle" style (but not the true antique turned "spindle" pieces from 100 years ago) wood bed I bought from a guy on Craigslist and painted white. It just wasn't "tall" enough for my liking so I've been
"kinda but not really"
looking for a replacement.
That is, until I can find a antique iron bed, which is my ultimate goal for the guestroom.
Last week, I bought a (short) four poster at Goodwill for $20. It was painted in a dingy coat of almond colored paint that looked like it had seen better days.
I primed it with Killz and shot it with white Kraylon.
No curtains..... my light, white gauze basic curtains were in the wash when I took this photo. Not a fan of curtains much anyway. The guest room is done in pink and vintage green; but I am soon going to be ditching the pink altogether. I have fallen out of love with pink. :/
The bed is temporary but I like it much better than the spindle piece; which I listed on a local Facebook "Yard Sale group" page and sold an hour later for $20.00 which made this new bad basically free; except for the paint I bought. (If you are not a member of your local Facbook Yard Sale group, I suggest you join one or start one! I have made some extra dough this week by listing my items; and they sold so much faster than when I list on Craigslist.)
Of course I always layer beds in vintage linens.... soft old floral cotton sheets, embroidered pillowcases, chenille bedspreads, and pillows made from vintage linens... the Crazy quilt pillow with pom pom trim I made from a crazy quilt top I found in the barn when I moved in here. The yellow chenille pillow is a Mary Jane's Farm pillow I bought at Goodwill. The vintage yo yo pillow I bought at Salvation Army, and the embroidered pillowcases I bought at an estate sale in Michigan for $.75.
The bedside table I found in the back barn under a pile of old tobacco sticks. It used to look like this: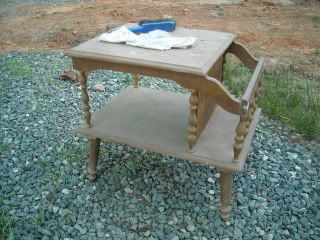 And now, painted in my favorite vintage green (Kraylon's "celery").....
So there you have it... a little Before and After action for your Sunday! (Or whatever day it is when you read this....)
I am getting excited about the end of my big stair case revival project; it.looks.gorgeous. The old walnut steps are just...... beautiful. It was so worth it. I will never understand why people covered up gorgeous old wood "back in the day". I am finishing the painting, and then I have a stack of vintage framed art I've been collecting for the wall... and then I will post the reveal. :)