No, I don't sell
all
the vintage things I find and buy. I have a personal collection of things I will never part with.
Most of my personal collection consists of family heirlooms; which I plan on photographing soon; at which time I will post the whole lot of it for you to see. I came by my collecting habit honestly; as will be proven when I post pictures of my great grandmothers; my grandmother's, and my mother's loveliest things that have come to live with me.
But for now, here are some things I have searched out, came across, happened on, and bought; or that were gifts. And this does not include my china and other vintage collections.
This is my most prized hat. A most treasured, adored, cherished hat. It is a 1930's
Elsa Schiaparelli
hat, people.
Elsa Schiaparelli was an Italian born designer who came into prominence in the 1920's -1930's. She found herself a single mother of a baby daughter in Paris after her husband abandoned them. So she began designing, and she and Coco Chanel were rivals. She was famous for really odd, obnoxious, loud, out of the ordinary designs. This is one of her hats; and is rather tame compared to some of her others.
It was a gift to me from a friend who knew I collected hats. I think it may have been in her family stash at one time. I even have the original box it came in. Whether it was purchased in Paris, I do not know.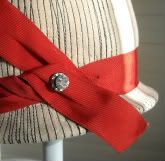 White wool sewn all over in black thread, with a red grosgrain bow and an incredible Art Deco rhinestone button final. I cannot say enough about this hat. Except that if there was a fire in my house, this would be one of the
first
things to get thrown out of the windows to safety before I exited the building.
Okay. Moving on from Elsa.....
This 1950's emerald green velvet coat and hood were a gift to me from my Mother. It is in mint condition; looks like it was never worn. It is
soooo
romantic, and I love it. A few years ago, it fit me easily; now, it doesn't exactly want to button all the way up. Let's just say I am not the
cup size
I was when she bought it for me when I was 18.
Ahem.
Not all vintage has to be fancy and dressy. I wear this 1960's style plaid shirt all the time; I love it. I picked it up for $1. The shoulders have little gathers in front, giving it a blousy, loose feel in 100% cotton. I do not think this is actual 1960's, however, as they were not putting many size and care tags in commercial clothing then. I think this is late 1970's or early 1980's. NOT ALL 80's clothes were bad!! Just think of Laura Ashley and Gunnie Sax!
This incredible jacket is a close second to my Elsa Schiaparelli hat. Very close. This is a late 1930's chocolate wool fitted jacket with the most incredible velvet detailing I have ever seen. I look at a lot of vintage stuff in person and online, and I have never seen
anything
like this. It is lined in taffeta. It's also like a size zero; so I have never worn it. I just look at it. And love it. I think it might have had a matching skirt at one time. Who knows? Below is the detailing up close. Incredible.
Handbags were my first vintage love. I got into collecting because I adored handbags so much. Hats came in a close second. I have a huge stash of handbags; some vintage, some not. Here are just two of my best bags.
The one on the bottom I bought in Raleigh at the huge "Flea Market" style antique sale they have at the Fairgrounds all summer. It was almost time to close up, and the guy with this bag was flirting with me in the worst kind of way. I was browsing through the items in his booth, and he kept making comments, and I kept trying to ignore him. Poor guy; he was not great at it, and his friend was snickering at his expense as he began packing their stuff up.
Then I saw the bag.
I picked it up. There were some strands of bead coming loose.
"How much?" I asked.
"Twenty - but only for you, sweetie," he said.
I wanted that bag.
I had to have it
. So I smiled.
"But, look at these loose strands of beads coming off here," I whined.
"Oh, yeah, look at that...."
I opened my wallet. I had already spent most of my cash on some other stuff and I dug out two crumpled dollar bills and a couple of quarters.
A thunder storm was brewing, and as I pulled the money out, there was a distant rumble and the raindrops began to pitter patter on the things on the tables.
His friend shouted to the flirty guy to hurry up, they had to move out quick!
There I was, standing in the gathering storm, with the bag in one hand, and two dollars and fifty cents in the other, looking at the flirty guy with a desperate look.
"Ok! I'll take it!"he said. I stuffed the money in his hand, and smiled at him for his troubles. Then I high tailed it back to our Suburban where my Dad was loading up my wicker headboard, maple turned wood colonial style armchair, and some other misc. junk my mom and I had bought that day. SCORE. I brought it home and carefully repaired the loose beading. Let me tell you, beading bags is not easy or quick work. But it was worth it. Later, I used the bag for my wedding ensemble.
The top bag, done in sage green shaded beads, I also bought for $2.50 at the Caswell County Council for the Arts rummage sale. Caswell County, North Carolina, is my
home
. I love my rural, poor county, and always support efforts of local organizations to raise money for whatever projects. I feel it is my civic duty. So on the last day of the sale, when everything was 50% off, I sacrificed my $2.50 in the name of civic obligation and purchased this beautiful handbag. And a Stetson cowboy hat. And a vintage crochet lace collar. And a few blue canning jars. And some Homer Lughlin tea cups. And..... you get the picture. Once again, Mom and I leave with a car load of goodies.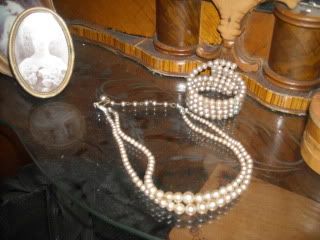 I bought this strand of faux pearls on another trip to the Raleigh flea market. I bought one for my niece as well. I don't know what she ever did with hers. The bracelet I bought for next to nothing somewhere else. Lucky for me, they match.
Hankies. I cannot resist them. And they are easy to collect, as they are pretty inexpensive. I collect ones like these: Lace, hand sewn, embroidery, cut work. Makes having a cold so much more enjoyable when you blow your nose on a ruffly, embroidered hanky.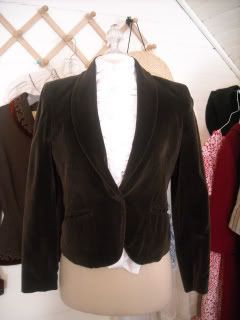 Another brown velvet jacket. This one I can wear and I do wear. Like wearing chocolate.
A hat my mother gave me a long time ago. One of my first hats ever. This one always reminded me of Scarlett O'Hara; I don't know why; but I have always called it my "Scarlett O'Hara hat". Even though, if is from the 1940's, not the late 1800s, as Scarlett was projected to have lived.
So these are just a few of my favorites that I bought and did not inherit. And that you would not see in my vintage Etsy shop, ever.
Hope you enjoyed the exhibit.