I know I have mentioned before that I collect vintage china - in addition to everything else vintage that I collect. I think every single thing I own is vintage.... with the exception of electronics.
I guess most girls don't think about china before they get engaged; and it's the first thing they do after getting the ring: pick out a dress, and register for china, silver, linens, and crystal for your new household.
Unless you're one of those Southern girls whose obsessed mothers dragged you to pick out your china and crystal on your fifth birthday. I am a Southern girl, but my mother didn't do that.
She didn't have to.
By the time I got engaged and started wedding planning, I had bought boxes of china, and stashed them away. China, linens, crystal, silver.
Anyway, I finally thinned out my stashes, and sorted out what I can part with. The following is a sample of what I will be offering in my Etsy shop this week.
The only thing better than excellent, thoughtfully prepared food is eating it on an elegant service.
I am a sucker for floral china; can you tell?
"Moss Rose"
This is actually a very common pattern I see a lot in antiques shops.
White cut work embroidery napkins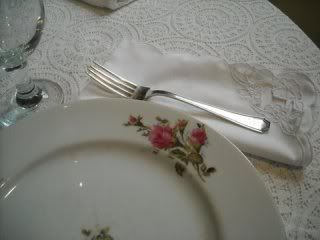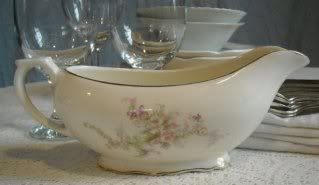 Homer Laughlin, 1956
All of these pieces will be available soon in my shop. Unfortunately, They are not complete sets; but each has a couple of pieces, for display, or for adding to a "eclectic" collection, or for romantic service for 2.
I took these photographs on my Great Grandmother's table cloth, with her silver and linens, as well.
There is more where these came from, also..... this is only the beginning.