I suppose this could wait till tomorrow... but then again, I guess this
is
tomorrow, officially. Seeing as I am doing this at.... 12:30 AM on a Monday night/Tues. AM.
Anyhoooo.... I am wide awake. (Must have been the rice crispies treats I gave in to a little while ago.)
Remember my post at Valentine's Day on things I love? Well, a few of my friends joined me and posted really swell lists that made me sit here and think "Oh, Yeeeah! Me too! OH, yeeees! I love that also!" Here are the links:
Susannah's List
Jodi's List
Elisa's List
And I have a couple of amendments to mine also:
Bacon, bacon, and - well, more bacon.
Thunderstorms.
Flip flops.
Hummingbirds.
Porch Swings.
Waves, crashing onto shore.
See where my mind has been these days?
Baking with my nieces is one, too: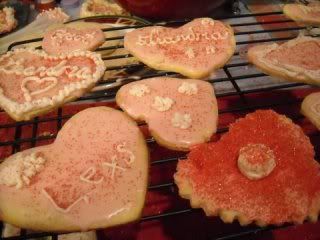 Which we did, on Valentine's Day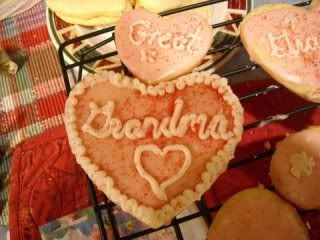 Making a huge mess in the kitchen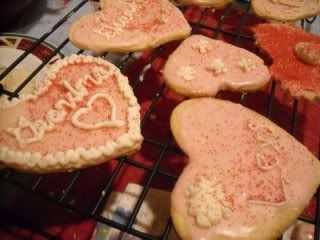 I also simply
LOVE
this cookbook, given to me by - you guessed it, my Mom. Or, maybe you didn't guess it.... but anyway
It's by Allysa Torey, founder of the
Magnolia Bakery
in NY City. It is a vintage style bakery. This book has lots of really outstanding recipes, as well as photos of her Victorian country home.... and her style is soooo vintage and shabby chic and
*sigh*
..... She doesn't own the bakery anymore, but the book still rocks, and I love it. Mostly for the photos of her home. Terrible, I know. But I look at it for inspiration and ideas for decor.
I also love the recipe I made up for
Lemon Cupcakes with Coconut Cream frosting
this weekend. I seriously love them. And I need to stop thinking about it before I go in the kitchen and start baking a batch at 1 AM on a Tuesday. (Cupcakes are fast becoming my favorite dessert. Although, I had a discussion with the guy at the checkout at Ollie;s today about whether Apple or Cherry was the bast pie. I was buying a jar of Spear's Farms preservative free, HFCS free, natural cherry pie filling, and we started talking about pie, and which was the best filling, and eating it with ice cream, and all the merits thereof....he said Apple, I maintain it's Cherry.)
Ok. It's getting late and I am borderline goofy..... G'nite, y'all.