(I apologize if you tried to view this earlier today; Blogger ate my photos; and it took me till tonight to re do them on Photobucket, as I spent the day sitting with my elderly Grandmother.)
I *used* to think that giveaways were a vast Internet conspiracy. I entered in many giveaways on different blogs, and never won a thing.
Then the other day, I entered a giveaway - not on a blog, but on one of my favorite forums - The (Mary Jane's Farm) Farmgirl Connection. (the Farmgirl connection is a community of like minded women who are interested in organics, healthy cooking, old fashioned things, aprons, animals, farm life, gardening, sewing, crafts, thriftyness, etc. You don't even have to live in the country, or on a farm, to be a MJF Farmgirl - it's a "Condition of the Heart", as we all say...) Anyway, one of the ladies there was giving away an apron. There was no picture, and she didn't describe it.
Imagine my delighted surprise when I WON!
It came in the mail yesterday. "Farmgirl" mail, that is. (see the left hand corner of the box? I know, it's blurry.)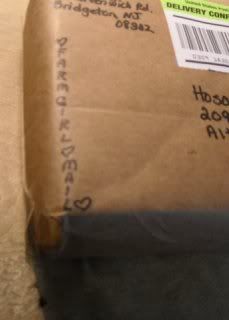 It's purple paisley on one side....
And yellow on the other! With pink ric rac - how "vintage"! Reversible! 2 aprons in one!
I love the purple paisley. I don't know how I will even cook in it; I might mess it up.
I realise these are awful pictures. The apron looks so good; and I look totally frumped out. :( Oh well.
I feel frumpy a lot these days. All the nasty weather keeps me bundled in so many layers of clothes, I can hardly move. I hate this time of year; always have. If we're not having rain; or snow, we're trudging around in thick gooey mud. Bleh.
I'm feeling the winter "doldrums" pressing in on me. I have a stinking headache today, feel generally yucky, am breaking out, have itchy skin, and desperately want to see some green grass and pretty flowers. I want to get my hands in the dirt, and plant my gardens.
But guess what?!
We are closing in on a new floor for my kitchen remodel. When Kevin asked me what I wanted, I said what I really,
really
wanted was wide, distressed pine flooring in there; distressed meaning new, but artificially aged to match the antique "pantita" of my glorious, late 1800's log wall. (I think I will just go ahead and name the wall "Gloria", and be done with all this "log wall" stuff.) BUT wide pine flooring is about $6 - $10 dollars
per board foot
! WHOA! I had resigned myself to laminate. :( But then my amazing, incredible craftsman husband searched on Craigslist and found a lumberyard that is selling bunks of solid OAK, rough-sawn, "cull" type lumber for mere
cents
per board foot! He's going to buy a "bunk" (like a huge bundle wrapped in plastic), and install it in the kitchen; then we're going to rent a floor sander for a day and sand the thing down to a soft finish, and top it off with several coats of polyurethane. Glorious! I am thrilled; as I have been walking around on plywood sub floor in that room because we hadn't painted yet. Now it's painted, so flooring is the next big thing and I am thrilled to have a real hardwood floor; for such a low cost. :D
Speaking of Craigslist: in all my browsing around on the local page, I found two more vintage metal lawn chairs - $10 each. We picked them up this morning. One is a more unusual rocker type. They're in amazing condition! $10 EACH?!
You "non-antiquey" folks have to understand: these chairs are in HIGH demand, are getting harder and harder to find, and if you restore and paint them, they can go for upwards of $50 - $60 apiece or MORE at antiques shops, depending on your area. Some go for even more; I have seen it.......... So, I am happy with them. Now I have four all together. They'll be turquoise or jadeite green before long... and placed under shade trees in my yard so I can sit and watch the Ferraris, Porches, Lamborghinis, Mazzarattis, and other fancy European cars whizz by on their way past to the Virginia International Raceway that is, like, 5 miles from my house. And I know I didn't spell any of those right. And, I don't care.
Anyhoooo..... have a great day and y'all come back soon, 'hear?