I planned on doing a post for our 2nd anniversary next month, and post a bunch of photos from my wedding at that time; but in light of my previous post on bridesmaid's.... uh,
regalia
.... I opted to give you a sneak peek at what my girls wore for my wedding.
I just realized I have never posted pics from my wedding on this blog before!
Rather than remove photos from albums, I snuck over to my Mom's Facebook page and stole some snapshots from our wedding from her. Mouhahahaha
We got married in mid-April. We opted for a mid afternoon wedding time, so we could leisurely spend a few hours with gathered family before taking off to our ultra secret honeymoon destination.
We were married in a large, historic home belonging to family friends, and we had a very limited guest list. (50-60 people only.)
The whole occasion was semi-formal, relaxed, and fun - just the way we planned.
So, being semi-formal and in the afternoon, I chose a robin's egg blue linen skirt for the girls, and each of them chose a white, cotton, vintage-styled blouse for themselves. They got to choose their own shoes, as well. Then my bff/bridesmaid/floral designer Elisa had the brilliant idea of wearing gloves and hats with the outfits. So, they all wore vintage white gloves, and chose a hat they liked. (Except my little sister Noelle; who refused to wear a hat.)
I gave them all a matching "1928 Jewelry Co." bracelet, and that was it. I loved it. I was bummed I didn't get an outfit like it for myself. :(
I also had a flower girl and 2 Jr. Bridesmaids, who wore white, embroidered cotton "Strausburg Children's" sundresses.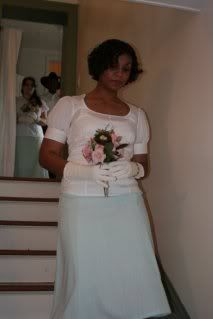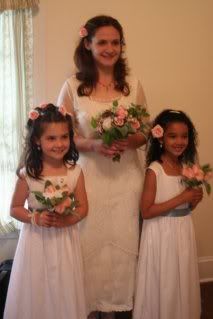 See? Not too awful bad.
I will post more pics and details closer to our anniversary.......