I was going to post something entirely useful and sensible but it will have to wait.
My brain is all a-flutter.
It's not like I haven't seen the Australian "horse adventure" movies before. I grew up watching a mini series in the 1980's called "Five Mile Creek", all about a stagecoach line in the Australian bush. Full of horses, costumes, moral lessons, and - of course - tough, muscular, scruffy, manly, sweaty, hard-working men on horses.
Then there was The Man From Snowy River, and the sequel.... and I fell for Tom Burlinson in that
hat
on that
scrumptious horse
jumping off that mountain side every single time I watched it.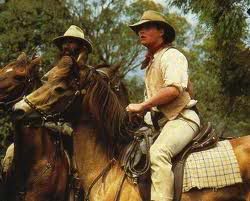 Just as the romantic lead females all did in the movies/episodes. How could you
not
?
After all those years, I never got over horses, which explains my barn full of 7 horses..... and all their "stuff".
And indeed I fell for - and married - my own real-life "tough horseman", Kevin - who bears a resemblance to the Man From Snowy River. (Except for the period clothes.) (And mine is American, not Australian.)
What inspired these reflections?
Last night we watched "Australia" the movie - which I had seen before, when it came out in 2008. But hadn't seen it since then - and I was reminded of how much I love it.
The movie takes place in 1939 right as WW2 was cranking up. It stars Hugh Jackman and Nicole Kidman. Mmmm, mmmm, mmmm. If for some reason you have not seen this movie, go thou to your Nexflix account and rent it. Or buy it on eBay like I did for $10.00.
Here are a few reasons why you should do this.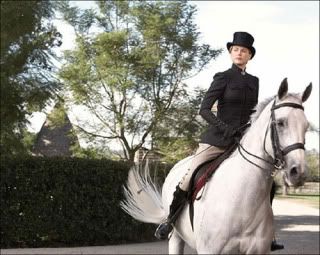 (
I need this riding outfit. I need it, I tell you. I cannot ride without it.
)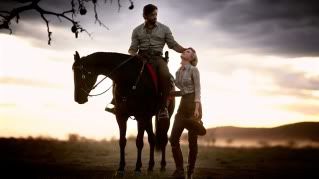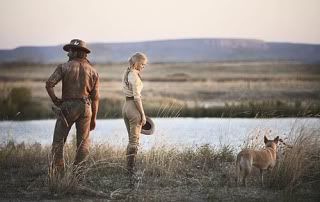 Oh yeah, and there is this:
Need any more convincing?