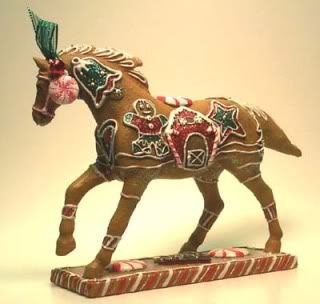 Gingerbread is another old-fashioned taste of Christmas... whether you call it gingerbread, or just plain old molasses cookies; they're a favorite in my family.
I remember going to Old Salem, NC in school and getting paper thin Moravian Molasses cookies in their old-time bakery. And I remember baking cookie with mom at Christmas time, cutting out the gingerbread men with her big cookie cutter, and pressing raisins in for the eyes, nose, mouth and buttons.
Years ago I started making gingerbread, the kind that is like cake. Some people like it with lemon sauce; I like mine warm with a little orange peel and real whipped cream. Yum.
Another gingerbread favorite is gingerbread houses..... or even gingerbread
horses.