My Christmas decorating style is very old fashioned, and very "nature" inspired. I bring all kinds of branches and vines and leaves into the house at Christmas, and use fruits, nuts, etc.
All my vintage ornaments are on my shop tree; all the antique blown glass ones.. at home, I have more of a "memory" tree.
So here is our tree...a
live
tree.
(I apologize for the so-so pics... I am still trying to figure out taking indoor photos with my new camera.)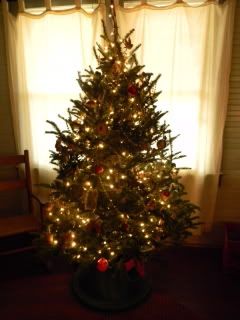 This year, in all my collecting, I found myself drawn to anything with birds.... mostly, I believe, because my Grandmother always loved birds and collected them, and since her passing, birds remind me of her. So I have a lot of "birdies" on my tree. (Gramma always said "birdies".... )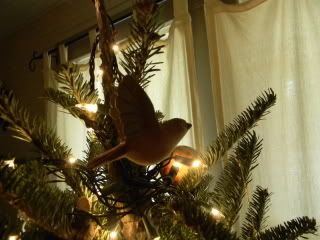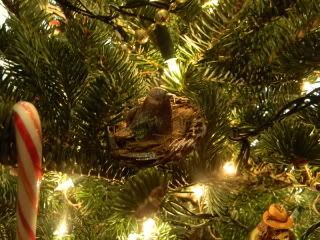 We have a lot of animal ornaments also. What can I say; I love animals so!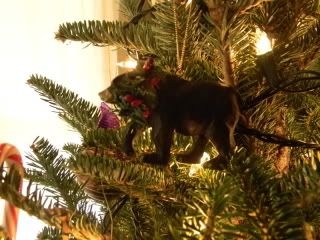 A black bear wearing a wreath around his neck.

A goose wearing a wreath around it's neck.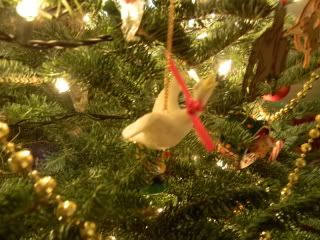 The photos is a bit fuzzy; I know.... this is one of two small porcelain geese I bought a few weeks ago for fifty cents at a thrift shop. They were in a box with an original $8 price tag. I
love
them!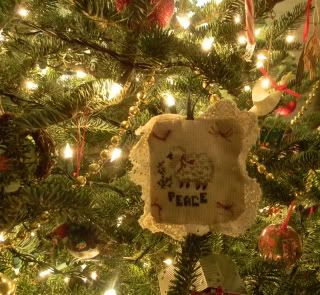 One of my own creations, a cross stitch sheep.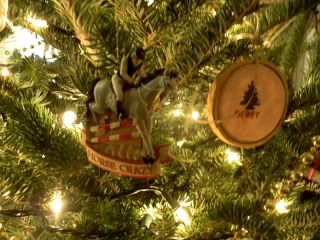 The one on the right is another one of my own creations.
One of my husband's many Hallmark ornaments given to him by his Mom. And he likes old trucks. (And new trucks.) (And middle aged trucks.)
Okay, so he likes trucks. :)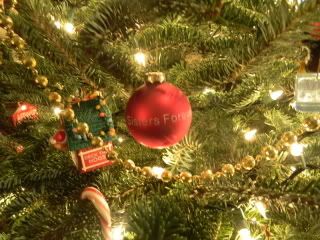 My sister Naomi and I bought matching ornaments one year.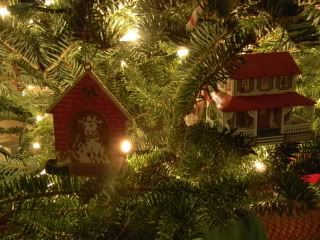 The one on the left has a Dalmatian dog on it - bought the year I got my Dal, Sebastian; whose name is engraved on it. He passed a year ago at age 12. :(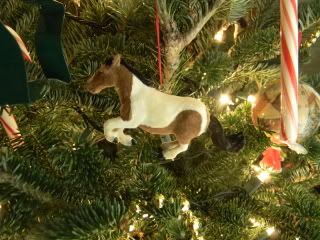 I bought this to remember our horse, Cookie, the year she passed away. My family had had her since 1986.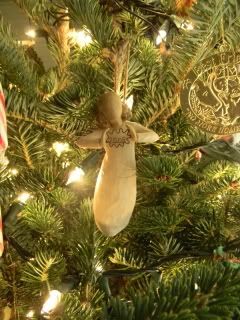 This one is, perhaps, the most meaningful of all the ornaments on my tree. It was given to me by my dear friend, Margo, the year Kevin and I got married.
Margo passed away after a sudden and unexpected stroke this past spring, just a day or so before I lost my Grandmother. I never got to say goodbye to Margo; and I miss her. When I look at this angel ornament she gave me, I think of her now, in Heaven, with the angels and her Heavenly Father.
So that's my tree. Plain and simple. And bedecked with so many cherished memories.