So Thanksgiving starts the "holiday season" and with the holiday season all the holiday treats.
I do a LOT of baking during the "holiday" (CHRISTMAS) season.
A lot of baking, and a lot of eating. Too much, in fact.
Every weekend and sometimes even weekdays, my family finds an excuse for getting together and eating some feast of hearty, heavy food and decadent desserts. It is really terrible for people watching their weight. But nevertheless.....
I will feature certain desserts and dishes that my family counts among our traditional "holiday fare" all throughout this month - yum! (I may or may not include photos I took myself. I have no luck taking food photos. So most photos will be courtesy of some cooking website or another.)
So this past weekend the family was over for chicken curry and
Red Velvet Cake.
(I use a recipe from Southern Living Magazine.)
I make it with cream cheese icing. It's just not the same with plain white icing.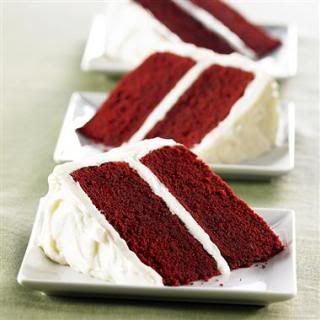 I made it, and we ate half of it that evening. The next day my sister and I ate more..... and this morning I took the remaining 1/3 of the cake to my parent's house to get it out of my reach before I ate the rest of it for lunch.
Mmmmmmmmm