My Mom and my niece, Abigail, share the same birthday.... which is really neat because Abigail is also Mom's first grandchild. So yesterday was the big day, and to celebrate, I hosted a lunch with just the family girls,
no boys allowed
. I frilled it up.
I find that young children actually do quite well with china, crystal and other table finery. So I got out some of my vintage china I never use; table linens that hardly ever see the light of day, and my mismatched vintage sliver and cute things.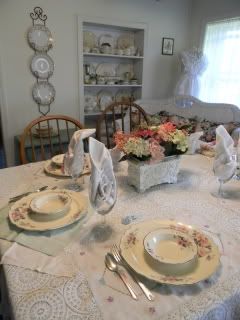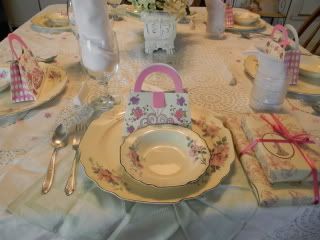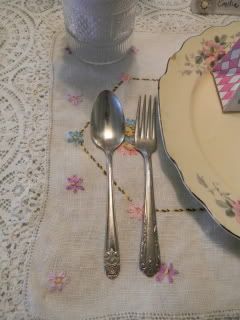 I made chicken salad for the ladies, and little cut out pbjs for the girlies. Cole slaw, fruit with brown sugar fruit dip, homemade dill pickles, and deviled eggs were our simple menu. I also made raspberry-mint lemonade punch... mmmm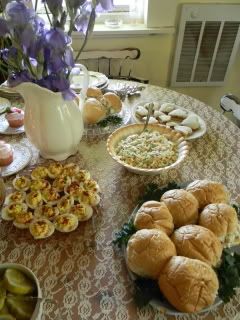 The birthday cake was strawberry - with strawberry cupcakes for the littles! I served raspberry sorbet with that, in keeping with my pink and frilly theme.
Birthday girls: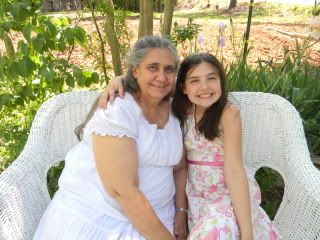 Afterwords, we put the girls in some white frocks and took some photos in the yard.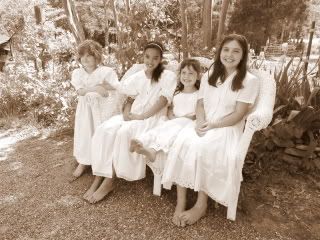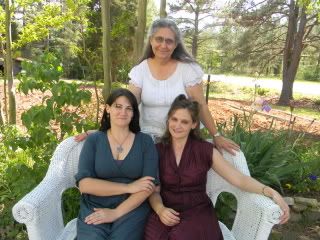 As you can see here, I was wearing Victory Rolls in my hair.... I am still struggling with getting them even on each side; but am doing better with the "roll" part staying up instead of getting flat on top of my head. I think my issue this day was that I was in a rush when I rolled my hair; and didn't keep each side with equal amounts of hair in the rollers. Which made for unequal rolls.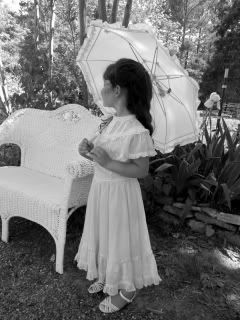 Alana, striking a lovely Southern Belle pose.
Ooops... a blooper.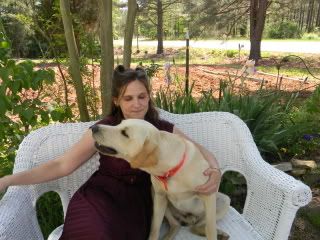 (Dodge)
The party was enjoyed by all and we agreed to do more girls only teas and lunches whenever we can find an excuse! I think it is good for young girls to dress up and use good table settings and feel special and ladylike.
And it is tons of fun for me to do!