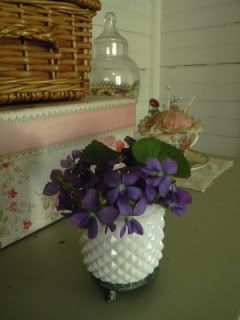 I bought this old milk glass, silver plate footed cold cream jar at my friend's antiques shop. It's such a cute little thing; and missing it's lid. Perfect for a tiny bouquet of wild violets I picked in my yard.
Violets are my favorite wildflower. I wanted to carry a bouquet of them for my wedding but we couldn't find them to buy. So, I made do with sugared violets on the cake.
Did you know you can make jelly from violets? I made some last year! It's pretty neat.