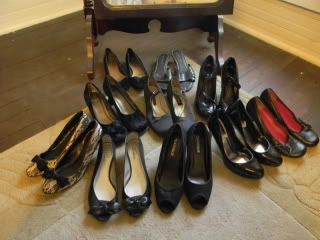 How many pairs of black shoes does a person need? At least 10, apparently. I've been sorting through all my clothes and things while I get out all the summer stuff; and I realized that most of my shoes are black. I have the boring tendency to wear black shoes with
everything.
I need to remedy this.
It's time for sandals! Here are a few I like:
American Eagle Outfitters
Ruche
The basic problem I have with sandals is this:
Cute = uncomfortable and too dressy looking. Comfortable = bulky, chunky,
ugly
clodhoppers. Why can't there be a happy medium (
that will not also make my husband choke and cough and frown when he sees the price tag
)?
- The "flat" sandals being sold today hurt my feet and legs so bad, I can't stand it. I have high arches. This is a problem.
- I find most styles unattractive. Gladiator sandals are just
not
for me.
- High heeled, cuter sandals are not very "casual" and I need something to throw on with shorts or a skirt for running to the grocery store or out to a church rummage sale on the weekend.
I think I might just forget sandals this year and go with ballet flats I can stick arch supports in.
This makes me very....very.... sad.