It's finally starting to stay warmed up around here; and I've been breaking out the summer dresses. Mostly sundresses. Here are some of the vintage dresses among them: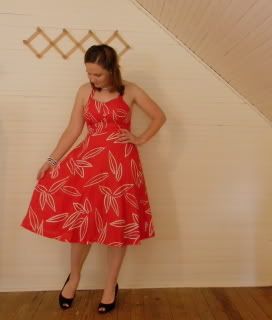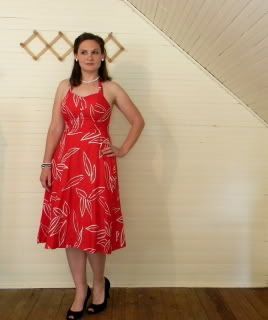 This is one of my favorites. I bought it last year. It's "deadstock" - never worn. It has a union tag - a newer version - so I think this is probably 70s - 80s; when there was a "50s revival" look. I love the bright red color. The straps are meant to be buttoned into the back of the dress, but I prefer to wear it with the straps tied behind my neck as a halter.
Dress: thrifted; Milk glass earrings: thrifted; milk glass necklace: antique store; Milk glass and black glass beaded cuff bracelet: Etsy; Shoes: thrifted.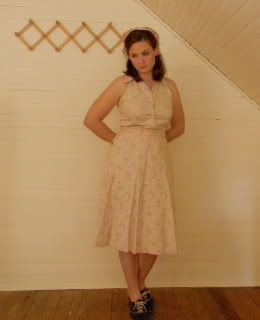 This is actually a vintage repro dress. I bought it when I first started getting into vintage clothes as a teenager.
Hat: Dandelion Vintage; Bracelet: Etsy; Shoes: thrifted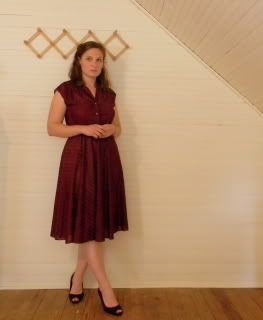 I
love
this dress; from the 70s or 80s. I love the plum color; and full skirt... it is so light and comfortable to wear. It has a 1940s "vibe" that I love.
Dress: thrifted; Silver and amethyst bracelet: rummage sale; Shoes: thrifted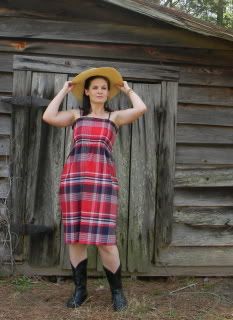 Another deadstock dress! This one looks very similar to ones sold at Wal Mart last year; but I promise it isn't. It is another deadstock dress I bought recently! 1970s, with a "elasticy" bodice. I remember wearing these when I was little.
Dress: thrifted; Vintage cowboy boots: gift from my Dad when I was a teenager; hat: vintage find.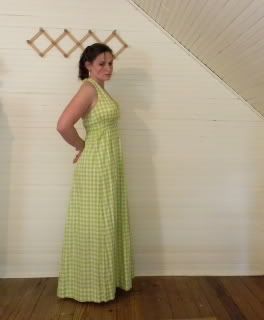 This is a
1970s maxi dress
; I believe it was hand made. It is available in my Etsy shop right now.