My niece Abi and I did some major spring cleaning in my house this weekend and I thought I'd share some quick pics while it was so sparkly!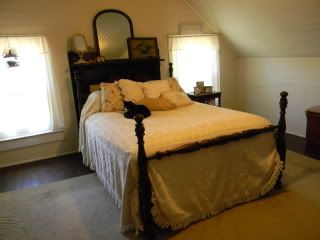 I determined when I moved in this house that all of my decor would be vintage; antique, or inspired by vintage and antique things; and that nothing would be purchased "new". So far; with the exception of appliances, I have stuck to this plan. I've been here three years and my decor is still evolving.
Our vintage 1940's mahogany/walnut 4-poster bed was a Salvation Army find I got for an astonishing $30.00. I adore this bed. The vintage bedspread was also a Salvation Army find. The floral pillows were from Goodwill and the white ones are antique linens I embroidered with monograms and stitched together with lace and trims. The cat, Splat, was found along side the street and was totally free - except for the vet bills. (Teehee...)
The big antique mirror on the mantle was found in this house when we moved in; and the other items on the mantle are little odds and ends I collect.The sage green rug was inherited from a friend who was moving.
This wardrobe is on the opposite end of the room from the bed. My husband picked it up at an estate auction one weekend when I was out of town. It's a classic 20's - 30's "waterfall" style. I think the handles are Bakelite. I stash some of my hatboxes and other vintage goodies on top. Next to it is a wooden shelf I store shoes and purses on; since we have not built closets in the upstairs rooms yet.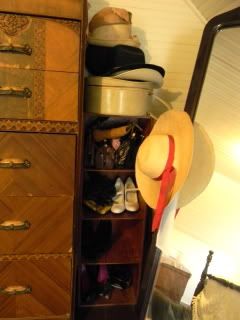 I hang some 1920's - 30's nightgowns on my door for a dreamy effect..... I got them at an antique auction. The vine and berry wreath was a thrift store steal that I am trying to figure out how to use.
The palette in my bedroom is rather nuetral; made up of creams, white, greens, and of course my unpainted dark wood furniture. This way I can indulge my love of "shabby cottage" without doing the frilly pink and turquoise palette and make my manly- man husband sick to his stomach. :) I like this color palette because it is very relaxed; calming, and not busy - perfect for a room where you go to relax and rest.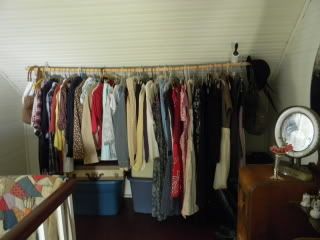 As I said, no closets in the bedrooms (we're going to build them eventually) so we improvised: in the upstairs hall, we simply created a walk-in dressing room type of closet; including the dressing table to match my wardrobe in the bedroom.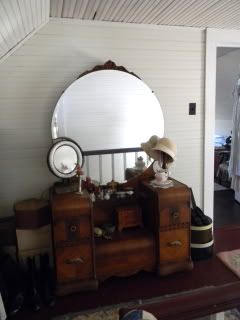 See all the piles of hatboxes..... they contain my ever growing collection of hats.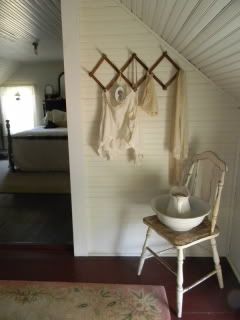 I made a seemingly useless corner of the hallway outside the bedroom a cute little nook with this chippy cream kitchen chair, a peg rack, and an antique cotton camisole, scarves, and little bits. The antique pitcher and bowl are a loan from my Mom, who bought them at auction. The antique hooked rug is also a loan from my Mom - she found them at an estate sale. (See where I got the "junking" bug from?)
I didn't show the guest room, because I've shown it before (somewhere). That is the room where I get to do the pink shabby chic thing!
So that's my cottage-y, vintage bedroom and "walk-in-dressing room". Freshly cleaned.
:)