Even though my house is in a state of "utter ruin", (well, not really)I can still do little projects here and there. (Yes, my kitchen and bathroom are still in "drywall" stage, and all remodeling has ceased until we can sort out why the sinks and toilet are leaking water all over the sub-flooring all the time. At least it is the sub-flooring,and not nice new wood floors that have not been installed yet..........)
Anyway, today's project was easy and simple! I saw the idea in some romantic, Victorian magazine I read, and thought "By Jove! I have that on hand....."
If you try this at home, you will require:
Cast-off old-fashioned sewing machine drawers from one of those old sewing machines. I just happened to have a couple that I found when I moved in.
You can paint them to match your decor. I am undecided about my bathroom decor, so I did not paint mine yet.
You will also need four vintage, or new - small drawer pulls. I purchased mine new at Hobby Lobby for about $2.50 each.
Next, you will need a trusty husband with an array of convenient power tools. Mine chose to use his cordless power drill. He drilled a hole in each corner.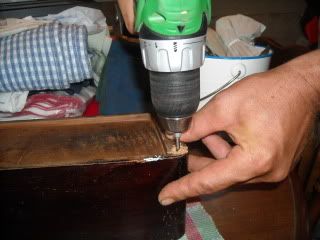 Next, simply remove the nut off each drawer pull and screw them into the holes in the corners.
I lined mine with a scrap of leftover drawer liners I saved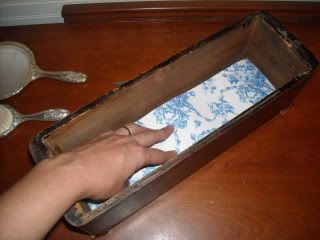 Just for the purposes of taking a photo of it, I put some of my vintage bottles and toiletries in it for display. You can use it for anything: in the bathroom for cosmetics and toiletries; in the bedroom for trinkets; in the living room for remotes; for sewing notions, and for just about anything. I plan on painting mine to match my bathroom decor, and maybe adding a little stencil or decoupage. Cute! Oh, and thank you, dearest Kevin, who is always lending me a hand for all my little projects. He did it all; all I did was pick out drawer pulls and point to where I needed holes drilled. It was
all
Kevin.....