Making a wedding cake is not as hard as it seems. I myself have done it a few times. In this case, I was making a wedding cake for about 100 guests.
One of the most important things you will need to build a wedding cake are proper tools; including good quality baking pans, (I use Wilton cake baking products.) decorating tips and bags, dowels for a stacked cake, cardboard cut outs to support the layers, etc.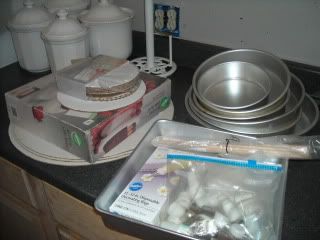 Next you will need the finest quality ingredients. Sugar, flour ( I use unbleached all purpose. Some use cake flour, but all it is is sifted flour with a little cornstarch mixed in and I don't think it makes a difference, personally.) flavorings, and in this case, 6 lbs of real butter, 4 dozen fresh, organic eggs, and 12 lbs of powdered sugar for the icings for both a groom's cake and a wedding cake.
The organic eggs do not sanctify the unwholesomeness of the butter and sugar, though.
I just use "real" eggs for everything because I have hens that lay them and they're free.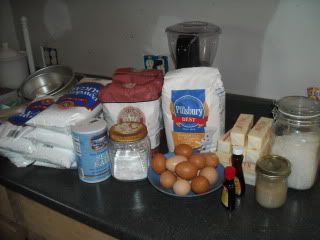 I used a pound cake for this wedding cake; as sponge cake tends to collapse when stacked in a great many layers. The bride wanted coconut so I toasted coconut and added that, as well as used coconut flavoring and cream of coconut in place of milk in the recipe. I also made red velvet layers for the groom's cake, as per his wishes. (I love red velvet cake...........) I use my trusty old hand mixer, instead of a stand mixer. I have yet to discover a stand mixer I like. I do not even like Kitchen Aid mixers.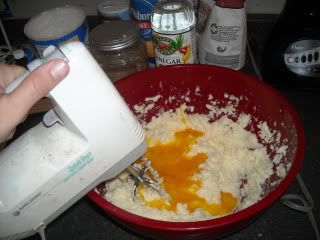 It is also convenient to have a spare fridge in which to store cake layers before assembly - especially in August in the South. And most importantly, in a farmhouse sans air conditioning!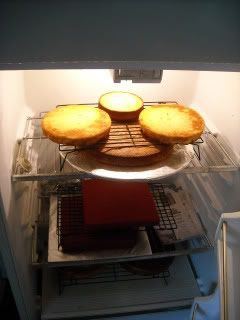 I thought it would be terrific to make the groom's cake square; as I think square cakes are elegant and their edges lend a touch of masculinity to an otherwise "sissy" confection, when you consider it.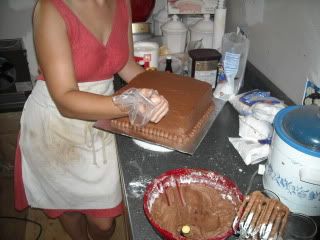 Crumb coat on a layer...........crumb coating is essensial when using white icings.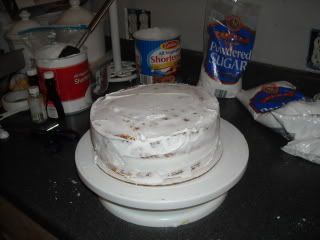 Doweling the layers gives support to the bottom layers for when you stack a layer on it.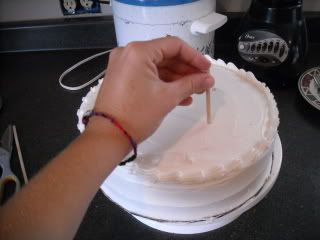 Assembled at the reception location: there was some damage to the layers on the trip over that I had to repair with icings I had packed with me. NOTE: If you try this yourself, do not transport cake layers in the back of your pickup truck on an August afternoon.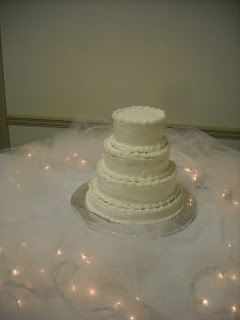 Flowers added make all the difference.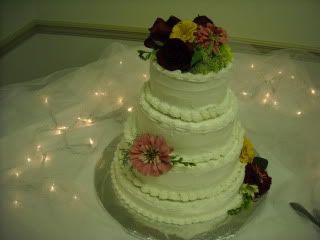 My favorite was the groom's cake; with it's mocha and rum icing. Even though I am partial to cream cheese icing on red velvet, this was ok too.