'Member the cabin I mentioned in my last post about treasure hunting in our woods?
Kevin marked the trail, and this weekend, Abi, Lexy and I hiked back there.
Down Kevin's "Left Road," which takes you off into the hardwood portion of the farm...
....on the side of the path, is a stone foundation from another cabin; even older than the one we were after. It's walls have long sense rotted, or burned away, leaving only a square formation of moss-covered stone, barely visible in the trees.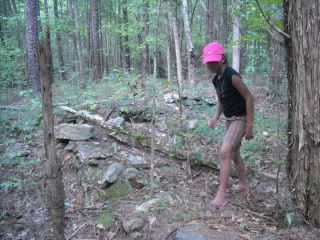 We walked and walked, and suddenly, there it was, just coming visible through the trees!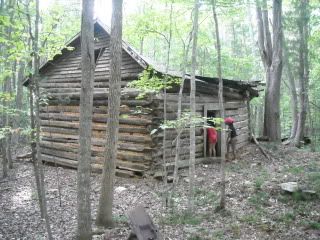 I don't know for sure, but as a student of history and one who pays attention to architecture and objects from different time periods in American History, I am assuming that it was built around the first part of the 1900's. There is no evidence of plumbing of any kind, or electricity ever being wired there. I saw no well; but it could be there, with a seal on it, covered in leaves. Since our home on the same farm was constructed around a late 1800's cabin, and the work was done in the early 1920's, this makes sense; I think.
The items we discovered around the cabin suggest this also...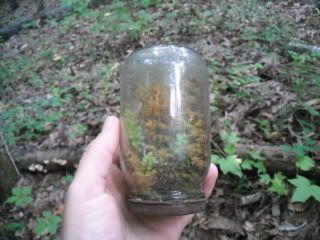 I discovered this jar with ferns and moss growing inside. I thought it was pretty, and took a picture of it that didn't do it justice. The style of some of the jars we found is from the 20's; some were the cork stopper kind they used before screw top lids. We found a glass baby bottle as well. We also found a bunch of screw top jars, which indicates someone lived there up into the 30's, at least.
Walking around, I saw this peeking out from the leaves at my feet, ten or twelve yards from the cabin -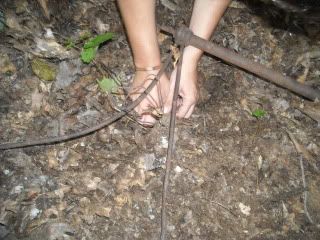 I started digging......
After cutting tree roots away, I pulled this little goody out of it's hiding place under the dirt - an intact- all be it bent and corroded- turn of the century-ish iron bed!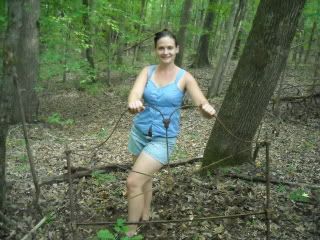 The bed rails were down in the dirt even deeper- and, I assume, the other half of the bed as well. I am planning on going back to dig a lot more, and find out. I wonder what all could be found if a true archaeological dig were conducted in the area? I know they did that at one historic home site in my hometown, and found many clues about the history of the place, as well as many buried artifacts.
This be will look cute in my flower garden next year, with climbing roses rambling all over it.... *sigh*.
What exciting fun it was! I am "stoked" about it. ("Stoked" is a new slang word I heard somebody say last week. "Stoked." Hum. that is an apt description of excitement, no? My excitement is "stoked." Whatever............)