My 10 year old niece Abigail was in a local production of "Godspell" this past weekend. Four shows. $10 per ticket. People
paid to see her perform.
That's her, right there, on the left.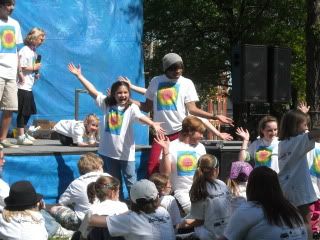 Look carefully:

I guess they paid to see the other youth perform as well, but to me, they all paid to see
one
little girl. Abi. :D
Seriously, they
all
did so great. For one week of rehearsals in a Spring Break acting camp, they did
great
.