I have really been neglecting this blog.... and my other two blogs, as well.... of late.
Bad, bad blogger.
Bad.
But as usual for me, I have a very good excuse for it...... I have been really busy.
For the past several weeks we have been doing a TON of outdoor work on the farm. And yet, somehow, at the end of the day, even for all my back breaking hours and hours of work that keeps me from blogging, it still looks to me like we've done nothing.
Keep in mind that my husband and I are carving out a cute farm, farm cottage and cottage gardens from the shambles we got about two years ago. A absolute mess of a place, it was. And still is, to some extent.
I often wonder if the day will come when I can sit on my patio and drink a glass of lemonade with one of my kitties on my lap while enjoying the fruits of my slave labor.
That is my goal. To get it all done - house and gardens - and have nothing more to do but sit around and enjoy it while drinking lemonade on the patio.
Anyway, here are a few views of what I've (We've) been working on.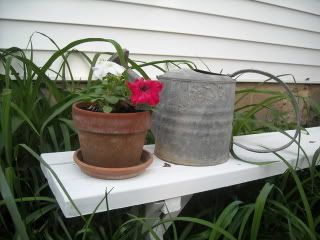 I painted this old bench white, and stuffed it among the throng of day lillys by my back door. The vintage watering can is one of my favorites.
I planted lettuce in the raised herb garden. I think it is pretty, growing in there with the herbs....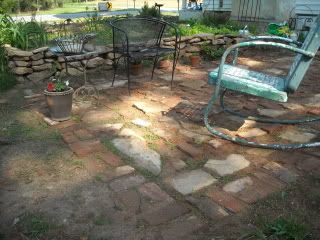 Here is a view of the patio we just got done constructing. We're going to grow grass and moss between the bricks and rocks. I wanted it to look old; like it had been there forever. The patio was made entirely from recycled old bricks and rocks from the chimney of an old house that was torn down on the property. Geez.... I really need to paint my vintage metal lawn chairs..... Turquoise. :D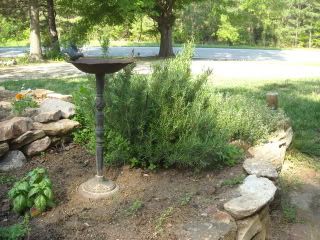 This rosemary plant was a gift from my sister. The vintage cast iron bird bath was my Grandmother's.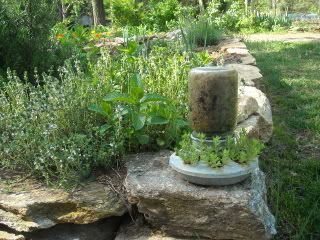 This little cutie is a canning jar chick waterer. Instead, I filled the jar with dirt, and planted little sedum plants in the watering holes so that is cascades out the holes. Weird, maybe.... but I think it is cute.
These iris bulbs came from Kevin's mother, from his childhood home in Michigan. I wasn't sure what color they'd be, but I LOVE this peachy hue! Now that I know what color they are, I can plant corresponding colors in this bed for a eye catching display.
Here is another view of this bed. It is a little wild and crazy; with lilac and sweet pea and peonies and azaleas and then the iris I am trying to establish. See the bed frame? That is where the sweet pea is coming in, and I am training them to grow all over the bed frame..... I think it is going to be perfect. You can also see my veggie garden beyond.
Here is another thing I have done this year..... and I almost didn't. There are several old wash tubs in junk piles on the farm that I pulled out. The bottoms were mostly rusted out of them, leaving just a ring of galvanized metal. I set them up and filled them with good rich dirt, and planted spinach in them. I was afraid they'd look "junky" but I think it has turned out rather cute.... and free. And recycled.
In this one, I planted a heirloom yellow tomato and a marigold. This one sits next to a gate post leading into my veggie garden. On the other side is a black walnut tree. the path goes between.
Anyway, that is a few of the views of my "cottage gardens in progress". I am going of a quaint, country, southern, old fashioned look to the gardens. Kind of wild, helter-skelter, and freely meandering and growing in all directions. I do not like the manicured, sculptured look for my place. Except in the veggies. I have structure there, for sure. But I want my flowers to be wild and free. I think they're happier that way.
Maybe next post I'll showcase UN finished projects around the yard...... uh, on second thought, don't count on it.