My dad's birthday was this past weekend, and he requested that I make his favorite meal: Gumbo.
My dad was raised in Louisiana, so Cajun foods are his favorites. I didn't learn to make gumbo until my later teen years, when I asked my aunt Dee Dee (my Dad's older sister) about it. I also did a lot of research on it and looked at many different recipes for different versions.
Gumbo is basically a stew - a thick, spicy stew usually comprised of chicken and/or seafood. It's like this: roux, broth, the Holy Trinity (green peppers, onions, and celery) and then other items such as your chicken, seafood, and andouille sausage, and other items such as okra, and tomatoes in some cases. It is typically made in really large "batches".
What I make is
Cajun
gumbo, as opposed to
creole
gumbo. "Cajuns" were descendants of french speaking settlers in the early days of the exploration of America; with a lot of African influence also. "Creoles" were primarily around New Orleans and were primarily settlers from France and Spain. A creole gumbo is a bit thinner and has a lot of tomato base to it; whereas a Cajun gumbo is darker, thicker; based on the roux made from fat and flour, cooked until it appears almost "burned". There is seafood in Cajun gumbo, but chicken, duck, goose, etc. is it's primary meat. And andouille sausage.
It took me a long time, and many tries, to get the gumbo to where my Dad said it tasted like the Gumbo of his Louisiana childhood.
The roux is the most important step. It takes a long time to do, so make sure you have at least an hour of uninterrupted time to make a roux. And some flour and oil.
In a large, heavy, well seasoned cast iron skillet, combine 1 cup of vegetable oil and about 1 1/2 cups all purpose flour. You don't want it to look too shiny; but not too thick either. You want a nice, smooth look to it. You may need to add more oil, or more flour, depending. Begin cooking on med-high heat until it starts to get bubbly, stirring
constantly
.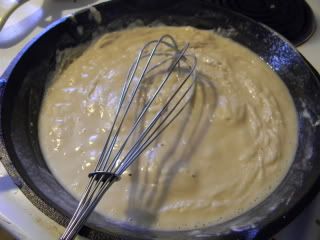 If at any time during the cooking of the roux you stop stirring it, you could burn it and have to start all over again. So have someone to talk to, or some music to listen to, because you're going to have to stand there and stir for about 45 minutes.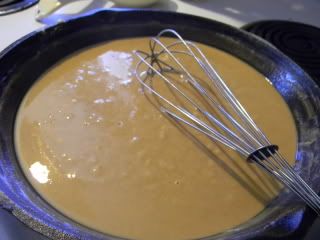 As it starts to brown, you may need to turn the heat down if it is bubbling too fast. The idea is to slooooowly cook the roux until it is dark and fragrant; there is no way to hurry the process along.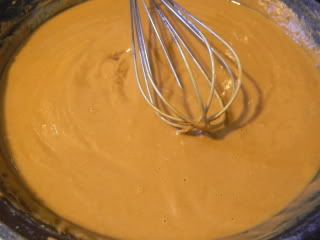 As it approaches "doneness", it's going to start to smell like it might be "burning" - don't worry. As long as you're stirring it constantly, and the heat is not too high, and it's not turning black and getting dry, it's not burning - it's just that nutty, rustic roux smell! Mmmmm.
Once it is a nice rich brown color, transfer the roux into a big stock pot, and add the Holy Trinity - in this case, I added:
4 green peppers, chopped
1 bunch of celery, chopped (leaves included.)
3 med. onions, chopped.
Mix it all around and cook for about 5 minutes - or a little longer - in the stock pot, stirring frequently.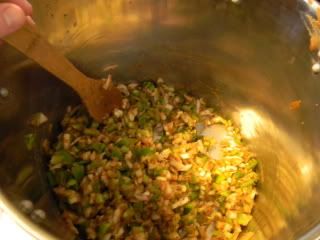 Next, I add about a gallon of chicken stock or vegetable broth, or both; and a Tbsp. of salt. Bring the pot to a boil, then reduce the heat and simmer gently for a while. A while being maybe 30 minutes or so. (This is not an exact science to me; I do it by smell, taste, and "feel".......)
Then add your chicken. Traditionally, you just put a whole chicken in the pot - bones and all (for flavor) while it simmers; and then you can take out the bones and skin before serving. But, my Mom
hates
that - because she seems to always get a bone or nasty piece of skin or other grody part from the chicken in her bowl; SO! I cook the bird, remove the skin and bones, and add the meat, torn into pieces.
In this batch I sliced and added my sausage, added a bit of okra I had from last years garden in the freezer, and a quart jar of home-canned stewed tomatoes from my garden as well. I brought the pot back to a boil, reduced the heat to low and continued to simmer. At that point I added my spices: red pepper to taste; black pepper, a bit of oregano, a bit of cumin, a Tbsp. or two of parsley flakes or fresh chopped parsley; and several dashes of Worcestershire sauce. By a "bit", I mean about a couple of teaspoons each, considering the size of the batch. You
may
need to add a quart or so more water; I did because it was getting awfully thick as it simmered all afternoon. But don't add
too
much, you don't want it to be runny. Cook very low for about an hour and it will start to thicken. several minutes before serving, add the shrimp - in this batch, a couple of pounds. Legs removed.
Traditionally, "file" powder is added as a thickener - file being dried, ground sassafras root. (This was started by the Choctaw native Americans of the region.) But, I cannot find file powder to buy in this area, so I don't have it. :(
Serve with hot rice....... you will enjoy it. Sorry I do not have a finished product photo; I didn't think about it.