Yesterday was so mild and lovely; I couldn't resist getting out and getting into my plants and doing a bit of very early Spring gardening.
So yesterday I started my tomato seeds (my first try) and separated and planted some day lilies. I'm starting my own tomatoes from seeds because it's cheaper than buying 25 nursery plants at $5.00 each when I put in my garden in April.
First, I got a bag of fully composted stall muckings courtesy of our horses. Yep, it's manure and all that stuff found in horse's stalls..... turned into a delightful dark soil. And yes, I touch it with my bare hands. It's not nasty, and it doesn't smell bad. I mix it in a bucket 50 - 50 with potting mix.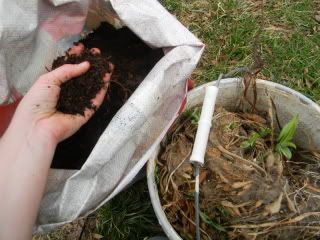 Day lilies grow into thick clumps that need to be dug out and separated from time to time so they bloom better. I had dug these up a month or so ago, and crammed them in a bucket for later...... here is an example of a clump; and as you can see they're already starting to green up and grow, even out of soil. They're very hardy plants:
And a separated portion: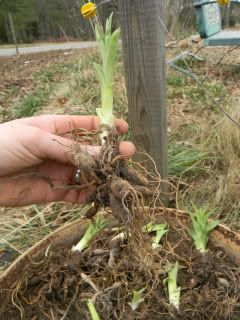 I planted them in one of my metal wash tub containers; I think they're so cottagey and cute. This is right beside the fence post of our garden entrance. I had to put one of my big tomato cages around it, to protect it from my four free ranging chickens that will not leave anything I plant alone. By summer, I will have a lovely pot of day lilies greeting me each time I enter my veggie garden. :)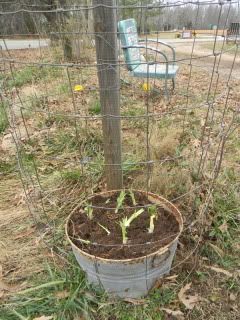 Starting the tomatoes...........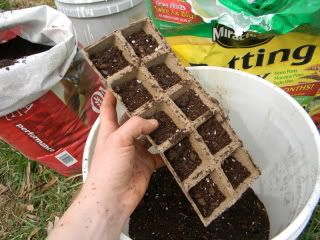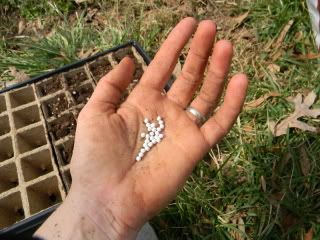 The contents of one $2.50 pack of tomato seeds. Beats paying $5 each down the road, though......
Put the water in the tray first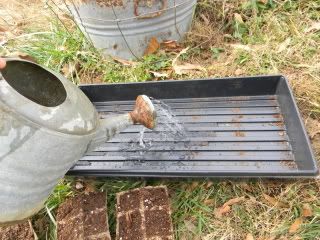 Then place the seed cups in; they soak up the water.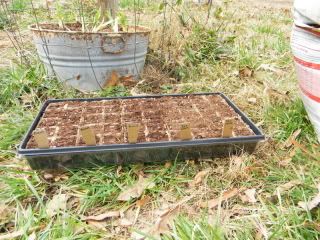 I did two trays total, and have to keep them in a rabbit cage in my house to protect them from the cats; because - well - you know about cats and dirt.