I bought this at a thrift shop this morning: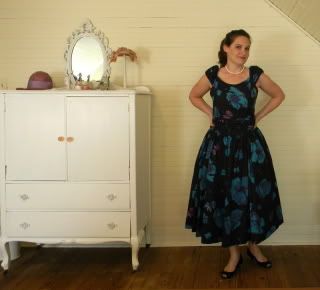 It's a classic 1980s or 90s Laura Ashley "1950s revival" dress. (In the 80's there was sort of a 50's fashion revival; along with the birth of the modern day Rockabilly "scene".)
Before you think I have gone off the deep end of the vintage fashion pool, hear me out on this dress......
The dress has a full skirt and built in crinoline. It has classic 1950s lines, and even the print is kinda 1950s. It's cotton. It's also a size 14 and quite large for me. (I had to kind of hold it up in the back for it to look right for a pic; thus my hands behind my back.) The waist sits too low - just a tad below the natural waist, a-la 1980's - whereas a real 1950s dress would fit right at the waist.
I bought this to sell in my
Etsy shop
, but when I got it on and fiddled around with it, I discovered that if I folded the skirt 4-6 inches up under the waist band thingy, it brought the hem up to a 50's standard level and brought the waist into a more natural spot; giving the whole frock a
true
1950's vibe:
However, as you can also see, it adds a lot of bulk to the waist making me look bulky and "pregnant". So. I think I decided to keep it, and get my Mom - who is an
awesome
seamstress - to help me reattach the skirt several inches shorter and maybe jack up the waist band thing a few inches, and take it in in other places to fit me just right. Then I can wear it to summer parties and weddings with 1950s accessories, and nobody would know it was 1980s except you blog readers! Lol. So what do
you
think?
By the way: while I was at the shop I bought this adorable handbag, which will be in my
Etsy shop
this afternoon: