Oh..... hello there. I've had a busy few days. With Spring arriving, I've had lots of things to do outdoors and around the house.
I found this coat recently and bought it - for a mere $6.50. It is in perfect condition - satin lined, and a soft brushed camel, in a traditional trench coat style. From the early 1950s, from the looks of the label.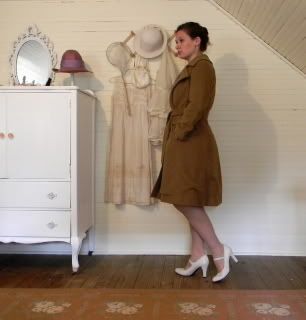 I am just a little sad that I discovered it right as the weather is warming up, and I will have to wait till next fall/winter to wear it out much.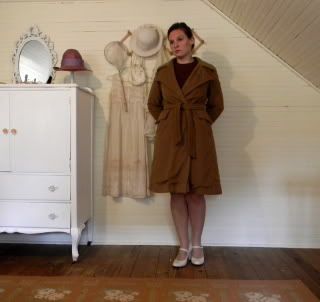 I look rather awful in these photos.... I am a little sleepy and sun burned from the weekend outdoor activities.
And lest you think I'm not wearing anything under the coat - I am:
A cute little brown 1960s textured wool number I bought from Carol at
Dandelion Vintage
. I love her website; I have bought several things from her and I adore every one of them. This one was missing the zipper; which I replaced.
I am also wearing the shoes I wore for my wedding three years ago; and a neat little vintage 50's pin I bought the same day as the coat but at a different shop; for only a "coupla bucks".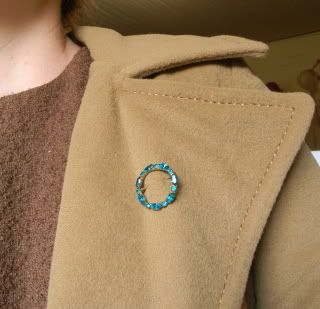 Anyway.
I haven't been shopping for vintage in the past several weeks; as I am saving my funds for a big weekend coming up.... the first weekend in April I am heading to a "rummage" sale at a auditorium back home in North Carolina with my Mom. The following day we're headed to a huge outdoors yard sale up in Virginia; along with stops at some thrift shops, a vintage shop, and several antiques stores in the vicinity. I am excited! I have a cash stash started in a tea pot in my china cabinet. :)
I'll be sure to document the trips with my camera and share the fun times here.
Happy Spring, everyone!