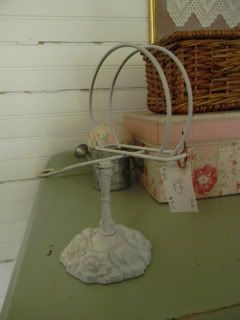 The thrift shop price sticker on this thing was stuck on what looks like an antique store tag; it's hand printed and tied on with a little ribbon bow. The Antique store price was $8.00; I got it for $1.50. And I have not the slightest clue as to what it is! I bought it just because I wanted to figure it out. The antique shop tag says it's a "Vanity Dish". There is nothing remotely "dish" about it; unless there is a missing piece. There are no moving parts on it. And it was painted white over gold tone metal. The bottom is a bit corroded underneath; however, I don't think this qualifies as "antique". So - what are your guesses as to what it is? If someone can tell me exactly what it is, I'll send them a cute,
free gift
from my stash! How 'bout that?
Strawberries are coming into season; and even though the local farms in my area of Southside Virginia/ North Carolina aren't producing for a few more weeks, the grocery stores have cheap berries - and they taste pretty good, too. So last night we had the first strawberry shortcake of the spring!
(PS - yesterday morning and early afternoon , we had snow flurries and dreary cold temps. Fickle, fickle spring!)
I usually make shortcakes for eating with strawberries and whipped cream; but last night I felt like pound cake. My husband says it is the best pound cake ever. I say it's not too bad, myself. I don't remember where I got this recipe; but it is written in that old fashioned way; if you know what I mean - so it's probably old:
Butter and flour a large loaf pan; or two small ones. Preheat oven to 300. Cream 1 cup of soft (unsalted) butter, and 1 and 2/3 cups white sugar. Beat in 5 eggs (room temp.) one at a time. When creamy, fold in two cups of sifted flour and 1/4 tsp. salt. Spoon into the pan and bake 1 1/2 hours or until done.
*The parenthesis are my additions
It turns out beautifully. I used to make them for the local Amish market.
And finally: Sadly, I have decided to remove myself from the antiques shop where I had my "booth" for the past 6 months. Business is slow; my items aren't selling there (but they are on line); and I simply do not have the time to work enough on the weekends to fulfill my end of the bargain for renting my space. Now I have to begin the daunting task of bringing it all home to the upstairs storage room I have prepped as my "inventory stash" room. I'm even going to doll t he room up shabby chic style. I bought a frilly pink petticoat slip for $1 on Etsy that I am turning into a frilly window valance.... among other cute things. No storage room will ever look better once I am done with mine. :)
Don't forget to leave a comment with your guess for the mystery thing above to get a free mystery gift! And don't forget to stop and smell the flowers this spring!