These are my birthday flowers; from my parents.
They're the Sam's Club variety spring bouquet of sweet pea, a rose, two pink carnations, a green daisy thing (Can't remember the actual name) and some fillers like purple carnation and some other kind of little purple flower that looks like a weed. (Sorry. I am not good at recalling all the flower names.)
But after a few days of them sitting on my table in the green florist vase, they just looked mashed together and as if they were languishing... so I had to arrange them. :)
I am not super good at flower arranging, like my girlfriends
Susi
and
Lisi
; who had a business arranging flowers for weddings not long ago. I had occasion to help them with the flowers for several weddings - including my own; and I picked up a few skills along the way - although not anywhere near theirs.
Anyway - so I picked out one of my favorite vintage vases, and a vintage "frog" - a heavy metal thingy that helps the stems stay in position.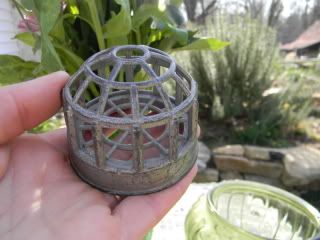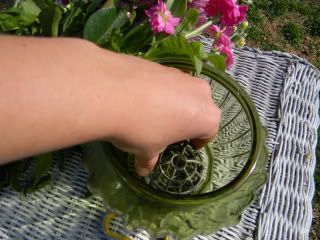 Next I cut all the stems way down - from about 14 inches to only 6, 7, or 8 inches. First I stuck in the rose, the green daisy thing, and the pink carnation - now only 1 carnation, as Dodge snatched one when my back was turned and shredded it! Grrrrrr.......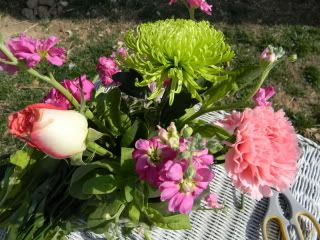 Then, I used the sweet pea and the other little fillers to fill in the gaps; trimming the stems to lengths needed to get a proper shape; without long leggy things sticking up all over.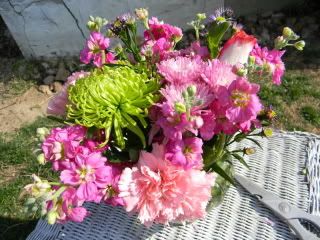 After that it still looked like it "needed" something, so I put a couple stems of white and lavender hyacinth in the gaps. Now, it was perfect and smelled wonderful, too.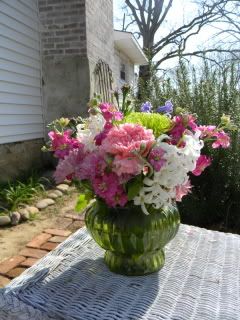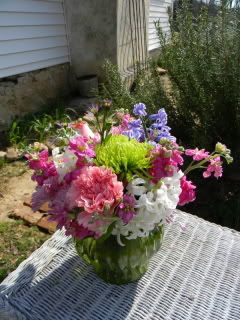 I love Spring!